Former Investigator Spoke About the Construction of a Concentration Camp in Ivatsevichy
14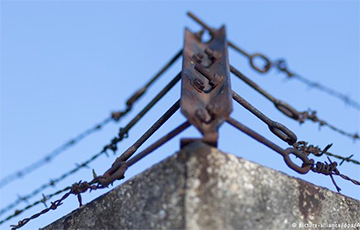 The barbed wire corral was planned to be used during the warmer months.
In Colony No. 22 in Ivatsevichy, a special "corral" was built for the detained protesters, fenced off with barbed wire. This was stated by the representative of the ByPOL initiative - former investigator Andrei Astapovich, euroradio.fm reports.
"In Ivatsevichy, we had already received information that there really was a moment when some pillars were inserted with barbed wire - as they were making a corral, you know. They actually made a corral for people because then there was seven thousand one day at most. And they did not know where to take them," - Astapovich said.
According to him, the security forces planned to take the detainees to this corral in the warm season and keep them under guard there.
The plans to build a camp for detained protesters in the Ivatsevichy colony became known on 15 January. The ByPOL initiative has posted on the Internet a recording of the speech of a person whose voice is similar to the Deputy Minister of Internal Affairs Mikalai Karpiankou. He talks about this camp and reports that Lukashenka "from all sides" will cover the security forces for using weapons. They also were talking about the murder of Aliaksandr Taraikouski. It follows from it that the protester was killed with a Russian traumatic weapon - Yarygin's pistol, which Russia supplied to the Belarusian security forces.
Astapovich said that after the publication of this conversation, law enforcement officers began to contact ByPOL more. According to him, the security officials themselves do not want such plans to be implemented.