'Belarusians Are Like River Trying To Overcome, Break Dam Hindering Its Flow'
1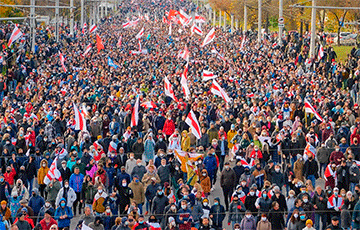 The resource of the regime is almost exhausted.
A reader of the "Basta!" Telegram channel compared Belarusians to a river that is trying to overcome and destroy a dam that hinders its flow:
- Remembering this August, before our eyes there is a picture of a human river, as endless as our Dnieper or Nioman. Our Belarusian rivers are calm, like people in general.
However, on the way, they began to build a dam, and the river stopped its natural flow. In nature, when a channel is blocked by a dam, the water begins to rise, and here, as they say, there is a struggle over who will win. Nature or builders.
In our case, the resource of builders, like the material, is very limited, and now it is almost exhausted.
And the water keeps coming! Here now everything depends on what pressure the river will create, how strong its tributaries are. And then there are two options, either the dam will crack and wash everything away, or the water will rise so much that it will overcome the dam, and it will no longer matter what it was built of, since it will be underwater!