Lukashenka Ended Up With a Self-Shot
32
Valery Karbalevich, Radio Svaboda
19.01.2021, 12:25

38,705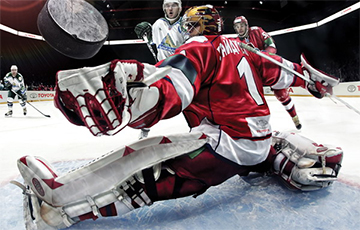 The usurper scored an own goal.
On January 18, the Council of the International Ice Hockey Federation (IIHF) decided to deprive Belarus of the right to host the IIHF World Championship, which was to be held in Minsk and Riga.
It seems the decision was not predetermined. President of the IIHF Rene Fasel arrived in Minsk on January 11 with a last desperate attempt to salvage the situation and avoid the hard decision on a new site for the championship.
To host the championship, Lukashenka showed his willingness to make concessions, even promising to negotiate with the opposition. Perhaps, the Belarusian regime could have outsmarted everyone, bargaining for the championship in Minsk. However, it lacked subtlety. Trying to have it all, the Belarusian authorities went too far and played roughly. Rene Fasel's visit ended in a scandal. The guest was simply framed.
According to a member of the IIHF delegation, the Belarusian authorities had promised not to publish the photo and TV reports about the meeting of the head of the International Ice Hockey Federation with Lukashenka. Nevertheless, the promises have not been fulfilled. As a result, photos and TV screens of Rene Fasel hugging Lukashenka and the odious chairman of the Belarusian Ice Hockey Federation Dmitry Baskov, suspected of involvement in political repression, appeared first in the Belarusian state media, and then in the European media. They caused an outcry of indignation of the local public.
As a result, the head of the International Ice Hockey Federation had to apologize. The warm welcome with Lukashenka was a kiss of political death for Fasel. The tone of his interviews and statements changed significantly after the scandal. "I have to admit that I played with fire in Minsk for a while. So we got burned a little," Fasel had to say. The IIHF president began to express great doubts about the possibility of a championship in Minsk. A meeting of the Federation Council was urgently postponed from January 25-26, as previously planned, to January 18. The scandal caused by the impudence of the Belarusian authorities contributed to the decision of the IIHF.
Thus, the hockey story ended with the self-shot for the Belarusian leadership. It has become typical of it lately. Lukashenka scored an own goal.
Valery Karbalevich, Radio Svaboda