"You Are Ridiculous With Your Concepts!": Vibrant Appeal Of Belarusian To Kachanava
36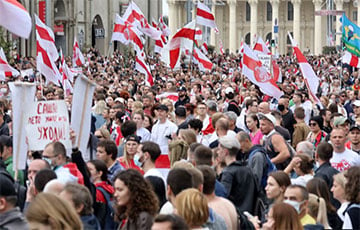 The gang of the illegitimate has lost and has no right to make any decisions.
The Basta telegram channel has published a vibraant appeal of a Belarusian to Kachanava:
"Citizen Kachanava, one of the 3% electorate of bandit Lukashenka, has spoken out about responsibility for the use of "unspecified symbols."
A vibrant appeal to Kachanava.
"Unspecified symbols." Like what? Are you suggesting to coordinate the color of clothing, curtains, illumination, bouquets?! The illegitimate one has unleashed violence and lies in the country with the help of corrupt law enforcers, and your appointees, who often have not the slightest idea of the sphere they are put in charge of! Do you really think that the most important thing people want is to change the flag and the anthem?
You are ridiculous with your concepts! People are well aware that you have lost the elections and you have no authority to make any decisions," - the citizen of Belarus said.