"Any Deterioration In Situation Would Hit Lukashenka First Of All"
6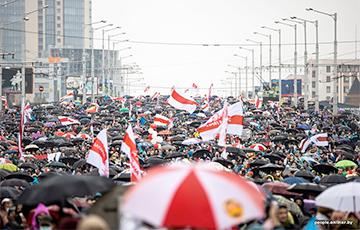 About the regime's weakness and positive signals for the Belarusians.
Lukashenka's weakness primarily comes from the fact that the majority of Belarusians do not believe in his ability to solve the economic issues. And no propaganda tricks will be able to convince the society in the opposite, well-known journalist from Hrodna Andrzej Poczobut writes.
Any excuses, any references to sanctions, the global economic crisis, coronavirus, will be rejected. You can't? So leave! Let someone else try. This is a dangerous situation for him. Especially, it seems to me that today he has no answers on how to get out of it.
Any deterioration of the situation will hit the authorities, Lukashenka, first of all. The main thing here is the state of the economy. And here everything is bad even without sanctions. If the West wanted to bring down the economy of Belarus, it would have only to reject our oil products.
Leaks of scandalous records are something new. This has never happened before. And that was a testimony to the monolithic nature of the power pyramid, its closedness from the society, with which they did not consider it necessary to share the details. All conflicts within the system were resolved behind the scenes, and the public was informed after the fact.
This was the case before. Now the conflicts become public. We don't know who is doing it and why. Perhaps there are different people or forces behind the leaks. But this is a clear signal that there are processes going on inside the authorities, and now the public opinion starts to play an essential role in such conflicts.
Officials and law enforcement officers who leak information, who fight within the system, not necessarily for the establishment of democracy, there may be other motives, they begin to appeal to society and its opinion.
This is something new, there has never been anything like this in Belarus before. And this can only mean that public opinion starts to gain strength in our country. And this is a positive signal.