More Ridiculous Than Comedy Movie: Young Woman Fined For Wearing Pants Of Wrong Colors In Belarus
51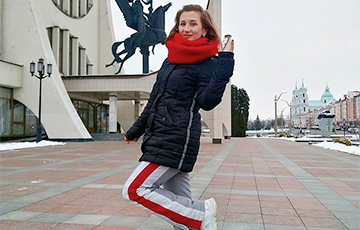 She has been wearing these pants since 2014, and has never encountered any problems before.
Resident of Hrodna Lyubou Sarlai spent a day behind bars, and then received a large fine after the police detained her in the street, writes kp.by. On that day, the girl left the house in the wrong pants ...
- I didn't scream or shout, just walked from the cafe to my car. Me and my friend were detained, taken to the police department, - s13.ru quotes Lyubou - I asked the policemen why I was detained. They replied with a question: "So you didn't want to convey any message with those pants of yours?"
Lyubou's pants are cute, with white and red stripes.
- The drawing on the pants is factory-made, I have been wearing them since 2014 and have never encountered any problems before, - the woman added.
Lyubou has two small children, but anyway, after drawing up a protocol, which says that "the color of her pants escalates the socio-political situation," she was sent to a detention center. The court found the young woman guilty, and fined her for 580 rubles. A witness-policeman testified that Lyubou was shouting slogans.
This is not the first administrative case against Lyubou. Previously, she was tried for a photo with historical symbols. The girl posted on the social network:
- The other day I studied our Constitution, it turns out we have many rights. Incidentally, I am ashamed, but until the last accusations of picketing against me, I did not even know what it was.