"The Bull Is Furious, but It Is Controlled by a Matador": Ihar Losik Beats the Regime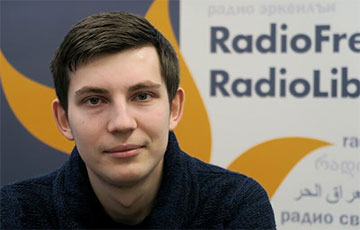 The political prisoner's hunger strike is gaining more and more resonance.
Ihar Losik is now close to becoming the new Raman Bandarenka for the protest, only in a square. Raman died by accident, Ihar goes to his death purposefully. Raman defended the symbols, Ihar defends the right to see the family, the telegram channel Reflexion and Reaction writes.
The goal of the hunger strike looks ambitious and somewhat naive from the outside. Bend an unbending regime under yourself? But it looks like this from the outside. We do not know what Ihar endured there; perhaps, at the moment, he somewhat changed his attitude to the value of his life, and, from his position, what is happening looks different.
But by putting his life on the line, Ihar created another unpleasant issue for the authorities. They will either receive another sacred sacrifice with all that it implies (which also multiplies by zero the external image effect from the subsequent release of high-profile people, or back down, which, however, can be played as mercy if there is political will. There are options with force-feeding, but there are also a lot of nuances that put a person's life on the brink.
On the bullfight, the bull is strong and furious, but his actions are always predictable. He reacts violently to the red rag. The matador is weak against his background and never attacks head-on. But he controls the process.
The one whose reaction is always the same and predictable cannot control the processes. Sooner or later, he is driven into a trap. Ihar's example shows that you can try to rule even while in prison if you have the will. Although, at the cost of his own life.
Meanwhile
Two priests of the Belarusian Orthodox Church have submitted petitions to the main investigation department of the Investigative Committee's central office for a personal guarantee against the starving political prisoner Ihar Losik. This information to BelaPAN was confirmed by the blogger's lawyer Dzmitry Lepretar.
The priests explained their step as an attempt to help Losik save his life.
One of the guarantors, Priest Aliaksandr Kukhta, noted on his Facebook page that he had never been a subscriber of the telegram channel Belarus Golovnogo Mozga, created by Losik, did not read it, but knew that Ihar was seriously charged and a criminal case was initiated.
- Is Ihar to blame? The court will decide. But he himself says that the case is fabricated, and this is a political process. Ihar also started a hunger strike (you can drink water, tea, and vitamins. Everything else is prohibited), which he has been holding for 36 days. He demands to release him from custody, - the priest writes. - On the other hand (as far as I understand), the state also followed the principle and (so far) ignores all of Ihar's demands. It is difficult to say how this story will end, but there is a possibility that the person will die."
Kuhta stressed that he does not consider Losik's choice to be right because, as a result, his family may be left "without a loved one," but may take on "a little responsibility for a person's life."
"I do NOT want a person to die out of stupidity and leave his family an orphan. Therefore, today I submitted to the Investigative Committee a petition to be recognized as his surety. If this plan works, Ihar will go home and start eating. And then I put my hopes on God," the priest said.
He invited other clergymen to join his intercession.
The founder of the telegram channel Belarus Golovnogo Mozga, Ihar Losik, has been in custody since June 25, 2020, and is recognized as a political prisoner. Initially, he was accused under Part 1 of Art. 342 of the Criminal Code (organization and preparation of actions that grossly violate public order).
On December 15, it became known that Losik was charged with a new charge - under Art. 13 and part 2 of Art. 293 of the Criminal Code (preparation for participation in riots). The Telegram channel Belarus Golovnogo Mozga suggested that this was done "in order to keep Ihar in custody, since the deadline for his detention on the previous charge expired on December 25."
Losik does not admit guilt and reacted to the new accusation with an indefinite hunger strike until all charges are dropped or the measure of restraint is changed. Together with him, on the same day, his wife announced an indefinite hunger strike, but, on December 21, she announced that she had to end the hunger strike because of pressure on her family.
On December 25, it became known that Losik's detention was extended for another three months.
On January 19, Dzmitry Lepretar reported that Losik's health condition worsened: "He feels weak, blood pressure is very unstable during the day."
According to the lawyer, despite the poor health, Losik says that he "will continue to starve."