Investigators Report Details Of Self-Immolation Near Government House In Minsk
6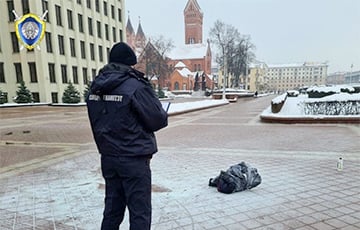 The man is 35 years old.
Today in Minsk, a man set himself on fire right in front of the Government House in Independence Square. The Investigatory Committee confirmed the fact of self-immolation, and reported some details of the incident in its Telegram channel.
"According to the investigation, on the afternoon of January 22, a 35-year-old man in front of the building located on Savetskaya Street in Minsk poured the unidentified liquid on himself, after which he set it on fire. The man engulfed in flames was extinguished by a passer-by and a law-enforcement officer. He is currently hospitalized in a healthcare facility.
Right now, investigators, in cooperation with employees of the Ministry of Internal Affairs and the State Committee for Forensic Examinations, are working at the scene. All the circumstances of the incident are being clarified," the Investigatory Committee informs.