"There Are Already 12 of Us": A Journalist Who Has Worked With Pressball for 15 Years Left the Publication
1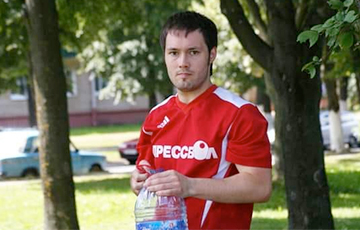 The outflow of personnel continues.
Journalist Yahor Bachyla announced that he was terminating cooperation with Pressball.
- As we say, if there are no publications on Facebook, it means it does not count. So, my collaboration with PB has come to an end. There are already 12 of us since December - a whole football team with a tail. But it won't be short here. Somehow, I can't do it.
And it all started in the summer of 1999 - on vacation after the 10th grade. I sat down in the kitchen at a small TV (in the kitchen, they are all small for some reason). I tore out a double sheet of paper from my math notebook. I watched some Belarus Championship match. And I took the text to Krapotkina street. There I was already oriented a little - thanks to "My own coach."
Siarhei Novikau got acquainted with my masterpiece. And then - thank you, Siarhei Yurych! - he did not give up on me but said: "There is a newspaper coming up, All About Football. Try yourself there."
After 7 years of elementary education, I was at a reception with Uladzimir Berazhkou, who, for some reason, was impressed by the interview with Chyzh. Thank you, Uladzimir Piatrovich!
And then there was a year or two of endless noise reaching Kamarouka itself, from Dzmitry Belenki over the prints of my masterpieces. Thank you, Dzmitry Ilyich, for the discipline and order. But the biggest thanks to Dad - an excellent coach, from whom I took over my love of sports and football!
And then there was one big adventure. "From Dynama, only the name remained" from the lips of Ihar Shytau, which greatly motivated Kyiv and thus greatly angered VMG. All sorts of killer and funny interviews with Usau and company. Belgrade and Naftan, Yuryevich's mustache, women's volleyball championship quarterfinals. How can you remember everything in 15 years!
I know one thing: it was wonderful. Thank you, Pressball!
Let us remind you that recently, ONT journalist Siarhei Lisichkin was appointed editor-in-chief of the publication. After that, leading journalists began to leave the publication. The publication has been heavily censored. Mentioning athletes who supported the change is strictly prohibited.