Andrius Kubilius: Putin's Behavior Similar to Lukashenka's
12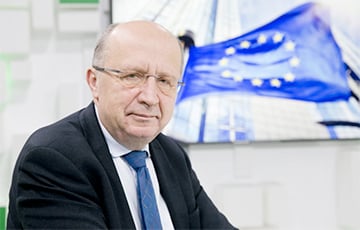 Everything that happened last year in Belarus seems to start in Russia as well.
"Putin's behaviour is similar to Lukashenka's. They are afraid of elections. One is afraid of presidential and another of Duma elections," said European Parliament member Andrius Kubilius in an interview with the Russian LRT.
Let us remind you that the European Parliament adopted a special resolution due to the arrest of Alexei Navalny. It urges the EU Council to impose sanctions against Russian individuals and entities who "decided to arrest and detain" the Russian.
Kubilius noted that the European Parliament had strictly spoken out on the matter before Saturday's rallies.
"On Thursday, a resolution upon the arrest of Alexei Navalny was adopted. Those responsible for his detention will soon face new sanctions. There are also demands to extend sanctions to the major oligarchs in Putin's entourage. The Council of Foreign Ministers is going to discuss the issue. The majority of ministers and states have supported tougher sanctions," Kubilius said.
He assumes Saturday's rallies may influence the decision as well.
"I guess that the events in Russia remind last year's events in Belarus. Putin's behaviour is similar to Lukashenko's; they are both afraid of elections, only one presidential and the other Duma elections. They have both found ways to steal elections, put the main candidates and opponents behind bars, and thereby, prevent citizens from expressing their opinions freely. Everything that happened last year in Belarus starts in Russia as well," Kubilius noted.
The MEP states the EU has experience in these matters, therefore everyone may better provide an assessment of the events in Russia.
"Fewer than 50 parliamentarians voted against the resolution, and 600 voted for it. Those who are against have no influence. Usually, it's either left-or right-wing radicals; there are representatives from all countries. However, most of the left, socialists, liberals, right-wing conservatives, Christian Democrats voted for sanctions. Besides, Parliament considers that Nord Stream-2 should be stopped soon," said Kubilius.
On January 17, the Russian law enforcement agencies detained Navalny and several dozen journalists and activists who had come to meet him at the airport in Moscow. Last Saturday, they used force against thousands of peaceful protesters.