Top Basketball Player Of Belarus: Now Everyone Is Struggling On Their Own Battlefield
3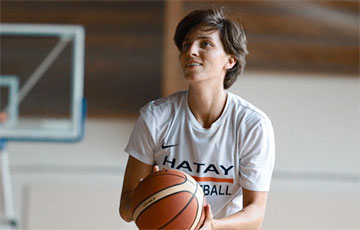 Katsiaryna Snytsina is telling how the protest "warmed up", and strikes in the gut of the dictatorship.
Katsiaryna Snytsina, captain of the women's national basketball team of Belarus, winner of the 2007 European Championships and a participant in two Olympics, playing for Turkish Nesibe Aydin, shared with tut.by her opinion about the protests in our country after the August 9 elections.
- In two weeks it will be exactly six months from the day of the elections. Has the protest faded away?
-… (laughs). The protest has not faded away, it has warmed up. Even if people do not take to the streets en masse, they continue to fight. Now everyone is fighting in their own area and on their battlefield.
Take a look, for example, at the illustrators, whose work showed that the Ice Hockey World Championship in Minsk could become a bloody game, dancing on bones. They helped to facilitate the decision to move the tournament from Belarus.
While abroad, I disseminate information, show on my Instagram account both the horrors of what is happening, and how incredible Belarusians are.
Everyone contributes, but the protest is definitely not fading away - Belarusians are simply finding other forms to express their dissent. In the end, people 100 percent did not stop eating white-red-white marshmallows - this is a blow in the gut of the dictatorship (smiles).
Of course, I would like the protest to be a sprint that would fit in one month. But everything dragged on for six months. Now we perceive it as a marathon: for our own freedom, our rights, for those people who have already ended up in prison, and for ourselves who may end up in this "camp".
- Do you have moments of despair when thoughts like "this is all in vain" visit you?
- As for "this is all in vain" - definitely not. Of course, there are times when you think: "Why is it so hard?" Especially in the situations where someone is suffering a lot. The last thing that made me fall into depression for a couple of days was the death of Raman Bandarenka. But then you pull yourself together and realize that it is precisely because of such moments that you need to continue the struggle.
When I have a breakdown, I use my own method, and write to people that I feel bad now. And I get a return flow of positive energy, thanks to which I quickly recollect courage: "So, Snytsina, why are you all gloomy? Pull yourself together and let's continue the struggle!"
Important to note, Katsiaryna Snytsina has put up for auction the bronze medal of Eurobasket 2007. All funds will be transferred to the Belarusian Sports Solidarity Fund.