Amnesty International Calls For International Investigation Into Tortures In Belarus
5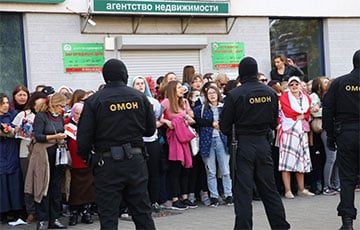 The organization has published a report on the crimes of the Lukashists.
The international human rights organization Amnesty International (AI) strongly condemned the systematic torture of protesters in Belarus, ongoing for almost six months.
People are arbitrarily detained, forced to undress, beaten, and left without drinking water, food or medical care, according to a new AI report released Wednesday, January 27.
Since the beginning of the protests, at least four people have died as a result of the actions of the Belarusian security forces, the report says.
The justice system in Belarus turned out to be untenable
Belarusian justice is used to punish the victims instead of bringing the perpetrators to justice, human rights activists point out. "The justice system in Belarus turned out to be untenable in all respects with regard to the criminal prosecution of those in charge," said Jovanka Worner, an expert on Belarus of the German branch of AI. In her opinion, in this situation the international community must achieve justice in relation to peaceful protesters in Belarus. In particular, a large number of human rights violations need to be investigated, she stressed.
"The brutal suppression of peaceful protests and any forms of disagreement in Belarus has been going on for several months, and is moving to a new level," Worner said.
Multiple evidence of human rights violations
The report states that numerous photographs, videos and testimonies of detainees, victims and eyewitnesses can serve as evidence of large-scale human rights violations by the law enforcement agencies. At the same time, not a single criminal case has been opened against the Belarusian security forces, instead, hundreds of cases are being conducted against the demonstrators, human rights activists said. However, since the beginning of the protests, more than 900 complaints of ill-treatment on the part of the law-enforcement officers have been filed.
Meanwhile, Chairperson of the Bundestag's Human Rights Committee Gyde Jensen has declared the need to bring to justice all those responsible for the ill-treatment of demonstrators. In her opinion, the EU, due to its geographical proximity to Belarus, should take on part of this task. "The position on gross violations of human rights in Belarus will demonstrate whether the EU has finally matured as a player in the international arena," she said.
Protests in Belarus have continued for almost six months
The exact number of those detained in Belarus remains unknown. The dpa agency notes that over the past months in Belarus more than 30 thousand people were detained, hundreds of demonstrators were injured. Protests against electoral fraud and police violence in Belarus have been going on for more than 5 months after voting on August 9, 2020. During the dispersal of peaceful protests and the detention of their participants, the security forces showed extreme cruelty.