Leanid Sudalenka: I Have Nothing to Fear
4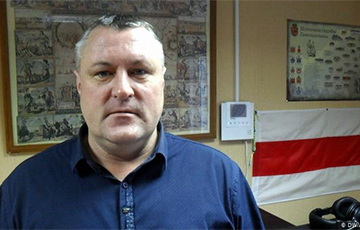 A well-known human rights activist spoke about the amazing solidarity of Belarusians.
One of the longest searches took place in Homel the day before. It lasted 11 hours and was carried out by the department employees for combating organized crime and corruption in the office of the social and political center located at 52 Paleskaya Street.
"They came within the framework of an initiated criminal case related to insulting a prosecutor, according to which Homel activist Uladzimir Niapomniashchykh is accused," human rights activist Leanid Sudalenka, who has been working in this center for 20 years, told Salidarnasts.
The human rights activist himself is sure that the "Niapomniashchykh's case" became a pretext for the grounds to conduct the search.
- As part of this criminal case, allegedly in my office, there may be objects, documents that are relevant to the case. The siloviki were not interested in anything forbidden, like weapons or drugs. They were interested in information, storage media, and bank cards.
From which we concluded that the "Niapomniashchykh's case" was a pretext for entering on a supposedly legal basis.
For example, what does my personal bank cards have to do with insulting the prosecutor (Uladzimir Niapomniashchykh is accused of threatening an official - Salidarnasts)? It is not written on them what words Niapomniashchykh could say.
Also, on January 5, a search took place at my house. As a result, five units of office equipment were taken from the office, and a laptop was taken at home. Now, apparently, they will study information about who I helped after the elections and how, - Leanid Sudalenka shares.
Sudalenka says that the Interior Ministry employees copied the files of the center's clients for more than ten hours.
"I have about 250 of them. So they take Ivanov's folder, 27 sheets, and rewrite everything in the seizure reports. Then they put it in a large box, sealed it, and took it away. Why would they need 250 folders of my clients if they came on the case of insulting an official?
Perhaps now all these people will be summoned to give some explanations, asking who and how helped them pay the state fees to appeal cases, IVS after detention. Maybe they are looking for some kind of money channels, the lawyer suggests.
After the searches, he himself was taken to the ROVD, but after interrogation, he was released.
"I was also asked about who and how I helped," said Sudalenka.
He does not exclude the possibility that pressure on the human rights center and himself will continue, but he will not stop its activities.
- I am not a casual person in human rights protection, this was the fourth search in my office in 20 years of work at home, and probably about a dozen of them took place in the office. For me, personally, my relations with the authorities were different.
I understand that the authorities do not like the activities that I carry out. But on the other hand, in order to help an old lady to cross the road, I don't have to take permission from the authorities. I just take this old lady by the hand and lead her so that the car doesn't run over her. I regard my peaceful and legitimate activities to defend human rights as similar to that.
To a certain extent, for me, this is already the meaning of life. I cannot imagine myself in any other capacity. If Lukashenka says that he has no idea how to continue to live if he is not the president, then Leanid Sudalenka has no idea how to continue to live outside of human rights protection, the lawyer admits.
He claims that he has never engaged in any illegal activity; therefore, he is philosophical about what is happening.
- I have always perceived work as a holiday. Helping other people is what gives me strength. Of course, now, it will not be able to work for some time in the capacity in which the center existed and helped before yesterday's events.
But people are already calling; they want to help, someone offers a second-hand laptop, something else, the Belarusian solidarity has not gone anywhere, it exists! I am sure that the restoration of office equipment is a matter of time. We will recover and continue to work.
But when from the highest tribune we are told that "sometimes it is not up to the laws", when we, human rights defenders, observe that a state of emergency has arisen in the country, when they shoot, then any of us can get hit. Anything can happen, and I do not rule out the possibility that the persecution will continue.
But what gives me strength is that I have not done anything illegal; I have nothing to fear. I'm not going to hide abroad. If I am presented with something, it will simply be "from the evil one," the human rights activist emphasized.