Andrei Suzdaltsev On COVID-19 In Belarus: It's Scary To Look At Clinics, Hospitals
10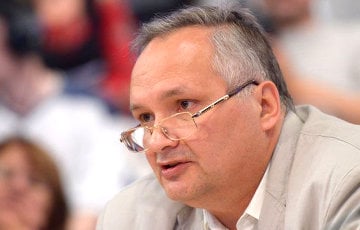 Dictator Lukashenka has become a "death sign".
The mosaic of news about the situation with the passage of the fourth wave of COVID-19 in Belarus is discouraging, writes the famous Russian political scientist Andrei Suzdaltsev.
The Belarusian leadership continues to stubbornly adhere to the 2020 policy, which includes on-duty optimism in state-owned media, and attempts to use another supposed "victory" over the epidemic in order to legitimize Lukashenka.
Last year, Lukashenka twice announced a "victory" over the coronavirus without a vaccine. In 2021, the Belarusian leader has already twice announced the creation of a Belarusian vaccine.
But to this day, in a small country where the Russian and Chinese vaccines were supplied, vaccination has not been completed. Now it turns out that there is not enough oxygen in medical institutions, doctors, there's a severe lack of places for patients, people are dying in ambulances.
But the most important thing is that extremely false statistics do not allow assessing the level of the catastrophe. Last year, in the pre-vaccine period, statistics showed the incidence and mortality rate from COVID-19 in the Republic of Belarus by an order of magnitude less than in neighboring countries - Poland, Lithuania and Russia.
At the same time, the Belarusian authorities have never given any clear explanation of this no-vaccine phenomenon.
Lukashenka's reasoning about sanatorium treatment as a panacea for the coronavirus does not stand up to scrutiny in a situation where all the time sick people are left at home, since there are no places in hospitals. What kind of sanatorium rehabilitation can we talk about under these conditions?
There is also a political context in all this. Just last week, wearing masks in public places in Belarus became mandatory - after 18 months of the epidemic (!). Until recently, ardent supporters of Lukashenka, carried away by the prospect of treating coronavirus with a tractor, a bathhouse and vodka, defiantly ignored basic sanitary requirements. As a result, this politicized part of the Belarusian population, who took an active part in various kinds of mass events in favor of Lukashenka, turned out to be the most affected.
Belarus is really dying out. It is scary to look at clinics and hospitals, as well as at cemeteries with crematoria. Lukashenka remains a sign of death for Belarus.