Polish Defense Minister: Fortifications Will Be Built On Polish-Belarusian Border
3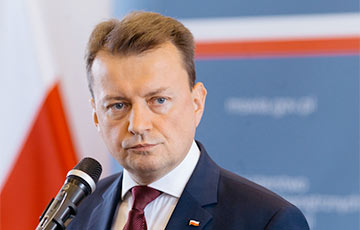 Over the past day, 605 attempts to cross the Polish-Belarusian border were recorded.
Polish Minister of National Defense Mariusz Błaszczak announced the creation of a law according to which fortifications will be built on the Polish-Belarusian border. It should stop the growing migration pressure, Polskie Radio reports.
Minister Mariusz Błaszczak said Poland intends to take advantage of the Hungarian experience learned from the 2015 migration crisis.
"A law is being created on the basis of which a permanent engineering firewall will be built. We are preparing to fence the border. We will use the Hungarian experience. Hungary has built a fence on the border with Serbia. This is not easy considering the various legal regulations, but we will use their experience. The law is being developed," he said.
The preparation of the draft law is carried out by the Ministry of the Interior and Administration of Poland.
Mariusz Błaszczak stressed that the existing fence between Poland and Belarus effectively minimizes the influx of migrants.
The head of the Ministry of Defense also said that the number of servicemen who daily provide support to border guards will be increased on the Polish-Belarusian border. There are currently 3,000 servicemen there. If necessary, their number can be doubled.
The Polish Border Guard Service reported that 605 attempts to cross the Polish-Belarusian border were recorded over the past 24 hours. The border guards detained 13 illegal migrants, Iraqi citizens, and the rest of the attempts were prevented.
Spokesperson for the Border Guard Service Anna Mikhalskaya said that eight people were detained for complicity. She added that since the beginning of this month alone, more than 6,000 illegal border crossings between Belarus and Poland have been recorded.
On Monday, Mariusz Błaszczak met in Budapest with the foreign ministers of the Visegrad countries and Egypt. Migration was among the topics of the talks. Egyptian Prime Ministers and the President will also discuss this issue on Tuesday.