"When Enterprises Stopped, Regime Trembled": Belaruskali Strike Committee Addresses To Workers
5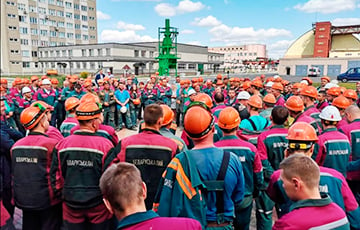 The strike is a double victory for all of us.
The strike committee of JSC Belaruskali appealed to the Belarusian workers.
The video of the appeal was published by the youtube channel of the Belarusian Workers' Association (BOR):
- Workers of Belarus, I appeal to you.
We all watch every day how the system is cracking at the seams with each decision. It can no longer control itself. The moment is near when the system will drown in its own mistakes.
Let the regime's propagandists tell tales that sanctions do not work, that everything is fine. You and I know the real state of affairs. And only we can change that.
Last year, when factories were shut down, the regime trembled. They were in a panic! Today we have an extra reason to stay at home: the coronavirus pandemic. When vaccines are already making their hard way in the world, we are just beginning to introduce the mask regime. All this can be explained by only one thing - the fear of reality.
And the reality is as follows: only we ourselves can take care of our health. Only we can decide what will happen to our enterprises.
The strike today is a double victory for all of us. We will not only save ourselves, but also the country and our enterprises.
Everything is in our hands. Each of you is a hero, each makes the future of Belarus! Bright and cloudless.
It's time to unite with like-minded people. Bring information to those in the tank. Open the eyes of your old folks who still watch TV.
The safest way for us is to stay at home. All together! Adults and children, workers, doctors, teachers, and civil servants.
Together we will win.
Let there be a strike!