"Few People Discharge from Intensive Care Units": Medical Professionals Tell Truth about Coronavirus Situation in Belarusian Hospitals
46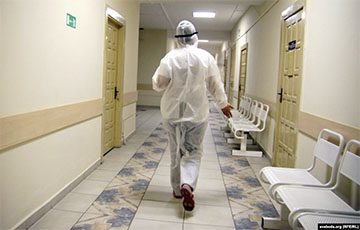 Patients lie in the corridors; medical ventilators are busy.
The internal data on COVID-19 in Minsk was made public yesterday. In all, the document lists more than three thousand cases, which epidemiologists registered in one 24-hour period on 7 October.
The zerkalo.io journalists decided to ask Belarusian doctors about the current status of the coronavirus in Belarus. They agreed to talk on the condition of anonymity.
Minsk and the Minsk region. "People are lying on beds in the corridors".
A doctor at a Minsk hospital said that the flow of coronavirus patients is increasing.
- I observe the number of patients is much higher than during the first wave. And their number is still increasing smoothly. The hospital is 105% full, with all available beds reserved for these patients. It has become more difficult for the doctors to work: the flow and the workload have increased. There are more inspections. At the same time, we have enough protective equipment. We are paid extra for working with coronavirus patients," says the doctor.
Another doctor from Minsk confirms his colleague's words. In his opinion, the number of coronavirus patients in the hospitals has increased.
- In July and August, there was a "lull". Every day we expected to accept up to 60 people, but only half of them sought help. Since mid-September, everything has changed. Our intensive care unit had 26 beds, and they quickly became busy. It happened that heavy patients could not even be transferred to the intensive care unit. They breathed oxygen and, more often, they died," says the doctor. - The coronavirus progresses very quickly. For example, a patient has 10% lung damage. After a couple of days, the level rises to 70-80%. The lung tissue of many people fails in such a case, and the lungs collapse.
An intensive care specialist in one of the re-profiled covid hospitals in the Minsk region tells us that even though the medical centre allocates additional beds for patients with coronavirus, their number is still short.
- Patients lie on beds in the corridors, medical ventilators are busy. The age of very ill patients decreases, and only a few patients are discharged from the intensive care unit. The number of vaccinated patients is extremely low, 1-3%," the doctor says. - There is an enormous workload on the staff. One comes home as squeezed as a lemon. Some of them can't stand it and quit. There is a shortage of doctors.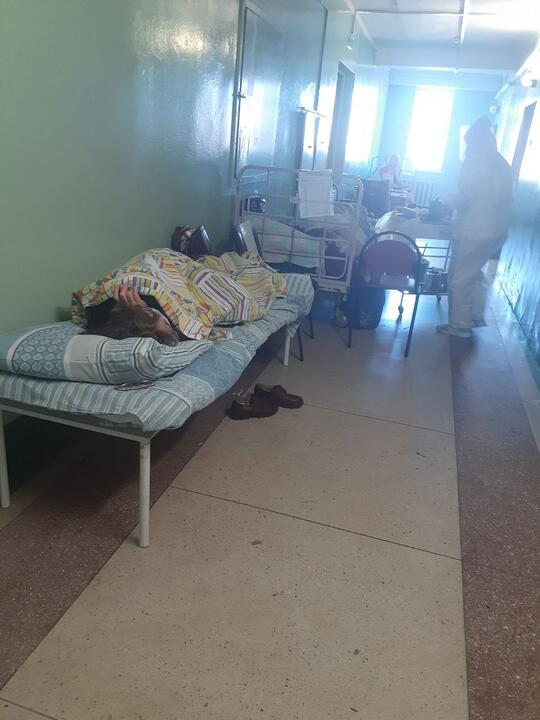 A colleague of a doctor who works as a paramedic at the Minsk Region emergency station adds that he rescues COVID-19 patients practically all his working hours.
- Other calls, not infectious ones, can wait two or three hours. We cover 550-700 km per shift. That's about 18-20 calls. The shortage of doctors is acute, almost all of them work at 1.5 rates, and many brigades are staffed by one paramedic instead of two. Now we're even allowed to replace the second paramedic with a nurse," he said.
What about the regions?
A medical student from Vitebsk says the situation in the city's local hospitals is not easy either.
- There are many very ill people. Hospitals in Vitebsk are being reassigned one after the other. Only one is considered "clean", yet cases of coronavirus are constantly detected there. The flow of people with symptoms has increased. There are lines near the infectious disease rooms, and some polyclinics have abolished the appointment by slips. People with anosmia and no fever go to the doctor's office. They take an appointment card to a PCR test. A few days later, they get a positive result," says the guy. - The working conditions have changed drastically. I have to stay late, and in some polyclinics with an appointment schedule of up to 8 pm, my colleagues work until 9:30 pm.
A doctor at the Brest Regional Hospital reports a similar situation in his city. Now there are three intensive care units, or 24 beds, reserved for coronavirus patients. But they are almost busy.
- Patients stay in the units of urology, former thoracic surgery and gastroenterology. However, it does not mean there are no patients with coronavirus in other units. Such cases appear daily.
A doctor from Svetlogorsk also wrote to the editorial office. He says quite a lot of young people are being hospitalized with respiratory infections these days.
- Even children suffer from pneumonia. On average, patients of intensive care units are people born in the 1960s-1970s. There are 14-16 people in ordinary hospital units. The number of doctors and nurses we have can serve up to twelve of them.
According to the doctor, the hospital receives many people with severe coronavirus. Doctors are not always able to help them because they lack an adequate number of medical ventilators.
- Patients arrive late, so it is difficult to carry out the necessary therapy in time and find out the results of some tests. Elderly people with chronic diseases are often not hospitalized. We focus on younger people who can still be saved. That's the sorting.