Minsk Bearing Plant On Fire
9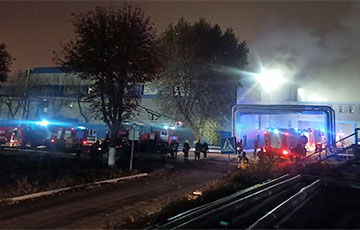 The cause of the emergency situation is being established.
Last night, an employee of the Minsk Bearing Plant OJSC received a message to number 112 regarding a fire in the thermal department on the territory of the plant at 2 Zhylunovich Street in Minsk, the Ministry of Emergency Situations reports.
When the rescuers arrived at the place of the call, according to external signs, an open burning of the roof of the thermal department of the enterprise was observed.
During the reconnaissance, it turned out that in the workshop the wooden elements, insulation were on fire, as well as covering the roof of a skylight of an area of 70 square meters.
Even before the arrival of the employees of the Ministry of Emergency Situations, 20 workers of the enterprise left the workshop on their own. No harm done. At 23.05 the fire was extinguished.
As a result of the fire, wooden elements, insulation and roof covering of the skylight on an area of 70 square meters were damaged.
The cause of the accident is being established, the version in question is a violation of fire safety requirements during hot work.