Putin Showed Lukashenka "The Fig Sign In His Pocket"
4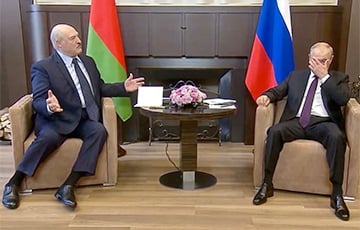 Instead of a visit to Minsk, the head of the Russian Federation takes part in the work of the Valdai Forum.
Putin did not come to Minsk for important events for Lukashenka, allegedly because of the coronavirus, but will personally take part in the work of the Valdai discussion club.
This was announced to reporters by the press secretary of the head of the Russian Federation Dmitry Peskov, according to ria.ru.
"Valdai Forum - we will work, it will be in a face-to-face format," Peskov told reporters.
Recently it became known that the Russian President did not come to Minsk for the CIS and EAEU summits on October 14 and 15. Putin will participate in them via videoconference.
At the same time, his visit was widely announced in the media following the talks with Lukashenka on September 9 in Moscow.
Among the possible reasons for the non-arrival are the coronavirus, as well as the situation with the closure of Komsomolskaya Pravda in Belarus.
It is noteworthy that Putin's full-time participation in the meeting of the Valdai Discussion Club, which will take place next week, was announced today.
The head of Russia has not been to Belarus since 2019. Lukashenka has already flown to Putin 6 times after the elections.
Political analyst Andrei Suzdaltsev called the cancellation of Vladimir Putin's visits to Minsk "a disaster for Lukashenka."