"Patients With 25% Lung Damage No Longer Admitted to Hospital"
29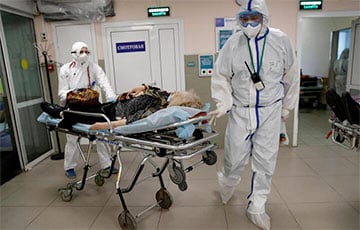 Doctors spoke about the nightmares of the fourth wave of coronavirus in Belarus.
Employees of Minsk medical institutions in Belarus told Radio Svaboda shocking facts about their work during the COVID-19 epidemic.
"Nobody knows how this nightmare will end."
Medical officer A. (name and surname are in the editorial office):
"The situation is terrible. In our clinic alone, 32 patients died over the last weekend.
We have nowhere to place people. There are 9 people in the ward for 6. Others lie on a stretcher. They have already said that the patients will be accommodated in the operating room, since there is an oxygen supply, which is now sorely lacking.
The management asks: "Why do Bobrov's apparatus break down (they are used to humidify pure oxygen - RS)?" What is the answer to this? Because these are devices that tend to break?
It comes to the point that in the working chat doctors write: "Maybe someone has extra oxygen, a humidifier?"
In one of the clinics, due to the low temperature at night, the valves of the cylinders froze. Because of this, there was a delay in the supply of oxygen to patients in intensive care. Later in this clinic, 4 people died on the same day, among them a pregnant woman in her last month of pregnancy. She was quickly given a Caesarean section, and the baby was rescued.
I don't know if it's already about negligence, or about the hustle and bustle in which we work.
Everything is hushed up, as if the situation is "calm"". People walked around without masks, and continue to do so. Patients have nowhere to be hospitalized. In my department, the salary has remained the same as it was before: it doesn't matter if 6 people work for all patients or 2.
Planned surgeries for chronic diseases are being postponed. Supposedly they are not urgent. But it is not a fact that after some time they will not become urgent.
Our clinic even lacks personal protective equipment. A limited number of overalls, disposable hats. And in ordinary departments, they issue one disposable mask per week.
The staff is in short supply. Under the threat of dismissal, they are forced to go to work by order - they do not look, who is 60 years old, who is 20.
Now they are waiting for Pinevich (Minister of Health of Belarus - RS) to come. Health workers from home are called urgently to wipe away the leaves. We divided the territory and assigned a plot to each department. The task from above is given to the senior manager, and she already begs us: come, help.
It's window dressing everywhere. Usually doctors work every day in dirty areas and think only so as not to stain these overalls with biological material: blood, saliva, urine. Patients - they cough. They save on everything, but when Pinevich arrives, then "here you are, masks, and respirators, and overalls …"
"There is no personal life at all"
Medical officer N. (name and surname are in the editorial office):
"People do not observe the 7-day isolation - they go shopping without masks, go to work, ride in public transport. If earlier, in the first wave of covid, they still somehow tried to check the patients - they called the intercoms, but now no one is doing this. Today we are obliged to dynamically observe covid patients every three days. But behind the shaft of work, we practically do not do this.
Now there are a lot of young people with high fever and 50% lung damage. Patients with 25% are no longer admitted to the hospital, but sent home for treatment, because there are no places in the hospital.
What will happen next is not clear. We already have narrow specialists helping in covid teams: a gynecologist, a urologist. And the patients are coming and coming. I know for sure that we are still very far from the plateau. The boundaries are not visible.
You come to work 2-3 hours before the start of patient admission, begin processing yesterday's data, enter all the information from the documents into a computer, write out sick leaves, then go to visits - you count on 5 patients, but while you are on the road, they will throw in another 10.
It happens that you go to only one patient who had a positive smear in order to put him on self-isolation, and there 5 more sick relatives of his crawl out of the rooms like ants.
I'm already afraid to walk the streets and shops. There are patients everywhere, they stop me, asking for some kind of consultations.
In order for an ambulance team to come to a person who is simply not feeling well with symptoms similar to COVID-19, they repeatedly had to lie that their oxygen saturation (blood oxygen saturation -Radio Svaboda) was very low. Otherwise, the doctors would not have responded.
We, doctors, are not allowed to recover at all. If in a hospital a doctor deals with a specific ward for 10 days and after about 2 days a fresh patient is put there, then we contact 20 of them every day. The viral load is enormous.
The other day, they finally let me throw out the overalls, which I had been wearing since September - they are already all yellow and dirty, and are coming apart at the seams. The reason for this sudden decision is the arrival of the sanitary station.
However, we also have women from the medical staff who simply do not want to defend themselves. Because of hairstyle, beauty, makeup. They go to take a smear in a disposable gown, not even in overalls, in a regular mask and in one pair of gloves.
There is no personal life at all. No one is allowed on long vacations. Now everyone is so exhausted that no one wants anything. No allowances, just nothing. This is some kind of a huge catastrophe."