"Complete Disaster In Minsk: Crying Nurses In Intensive Care, Blue People In Pulmonology"
58
17.10.2021, 21:36

126,704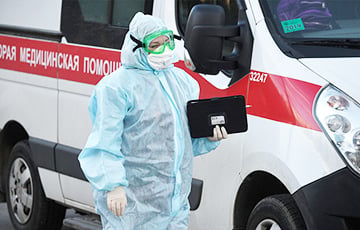 New shocking summary of COVID-19 in Belarus.
The White Robes Telegram channel published a summary of news related to COVID-19 in Belarus as of Sunday morning.
Over the past day, 15 people died of COVID in the Vitsebsk emergency hospital. The Ministry of Health gave statistics at 17 in the entire republic.
They write from the 6th City Clinical Hospital of Minsk:
"There is a complete disaster in the 6th City Clinical Hospital in Minsk.
Nurses in the intensive care cry from the flow and stress.
In pulmonology, people are blue, suffocate, there is not enough oxygen.
There are not enough places and mechanical ventilation in the intensive care unit.
Well, the photo from one of the Minsk hospitals speaks for itself.

I wish the officials were aware that patients are being hospitalized in the corridors.
Get vaccinated!
Wear masks!
Observe social distancing.
Avoid crowded places.
Wash your hands thoroughly.
Convince your loved ones, friends, ardent anti-vaxxers and anti-maskers to do the same.
This is the only way we can slow down the growth of new cases, and give doctors and the health care system a chance to withstand this difficult test.