"Officials Waiting To See Who Is Next"
3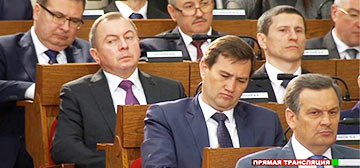 The state system in Belarus is not just floundering, it is on the verge of collapse.
Today the strike committee of Belaruskali has published a series of posts about the arrest of the management of the Salihorsk Rudgormash LLC, in particular, director Henadz Kubanski, writes the Telegram channel of the Belarusian Workers' Association (BOR).
What's so great about this news? Yes, the fact that he is a good friend of the general director of JSC Belaruskali Halavaty, who is the godfather of one of the grandchildren of the Blue-Fingered, and also a member of the so-called council of the Republic.
We will not write about what schemes these guys played. We will pay attention to the fact that the sweet little regime, which is not affected by the sanctions, does not have enough money, and thus they sharply opened their eyes to the affairs that they had previously turned a blind eye to. Now every corrupt official and functionary is sitting and waiting to see who is next.
All this suggests that the system is not just floundering, it is on the verge of collapse. And it depends only on us whether we will remain in ruins after all this, or will be able to preserve what we have. Will we whittle down the people of Belarus with the coronavirus or not? Only we can solve this!
Prepare food supplies, prepare a financial cushion. All together we are preparing to stay at home.
Subscribe to the Telegram channel BOR - Belarusian Workers' Association