Belarusian Doctors Abroad Appealed To Compatriots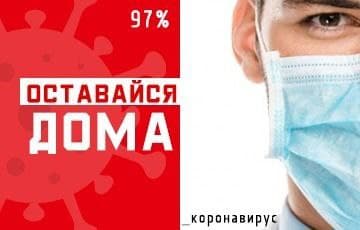 Stay at home.
Belarusian doctors abroad have sent an appeal to the editorial board of Belsat, asking Belarusians to help medics in the fight against coronavirus.
"Today, medics need your help again. This wave of the epidemic is stronger and takes place amidst a shortage of medical personnel and supplies, as well as a more aggressive virus. You can help reduce the number of illnesses and ease the burden on medical facilities," the statement reads.
Among other things, doctors urge:
1. Stay home if you can. Leave your children - school and college students - at home. Coordinating with other families and co-workers will help the immediate supervisors review the routines of the organizations. Cancel non-vital in-person meetings, visits to public places and celebrations. Reschedule important meetings to a remote format.
2. Always wear masks in areas where other people may be present. Talk about the need for masks to those around you who may not understand the importance of wearing masks and distancing. If diverse New York City has agreed to wear masks and continues to do so, why can't Minsk or Vitsebsk?
3. Get vaccinated with whatever COVID vaccine is available to you. Not a single vaccine gives 100% protection against the disease, but all vaccines reduce the risk and seriously mitigate the course of the disease in most cases. For some people, vaccination may mean the difference between a home cold and a crowded hospital, for others it may mean the difference between an oxygen mask and a ventilator, or between life and death. The two main vaccines available in Belarus have accumulated enough independent (!) safety data from the countries where they are used. The full effect of the vaccine does not appear until 2-4 weeks after vaccination.
4. If you get sick, treat every cold as COVID and isolate yourself to protect your loved ones and just the people around you. If you can have a test done without risk to others, have it done, but be aware of the possibility of false negative results.
5. If you work in the medical field or government, help yourself and demand from local leaders to organize effective measures against the epidemic: increasing the availability of vaccinations for healthy people, active testing of sick and healthy people, separating the flow of infected and uninfected patients, and creating infrastructure to help isolated patients and citizens at high risk of complications at home."
In a nutshell, the physicians' recommendations are as follows:
if you are healthy: vaccine + distancing + masks
if you are ill: isolation + distancing + masks (+ vaccine after recovery)
"These measures are a demonstration of solidarity and care for loved ones. By implementing them, we can protect the most vulnerable people in our country - those who cannot get vaccinated because of their age or whose immunity is weakened by illness or treatment. By implementing them, we can save those who today cannot continue treatment for serious illnesses because facilities are closed. By implementing them, we will be able to return to a normal life with minimal restrictions," stressed the doctors.
The appeal was signed by Belarusian doctors Anastasia Pihal, Katsiaryna Hreval, Volha Hodzin, Maksim Acharetni, T.K., Siarhei Dzedzik, and Anastasia Mankouski.