Dmitry Bolkunets: Lukashenka Is Weak. There' a Chance to Force Him Into Concessions
16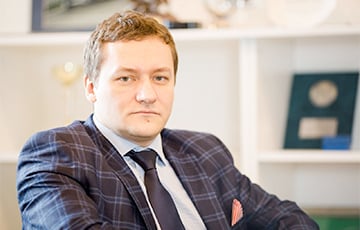 Belarusian society is ready for nonstandard actions.
Opposition leaders, public figures and sports stars have expressed solidarity and supported ten demands of Belarusian workers against the regime. Charter97.org spoke to one of the signatories of the appeal - political analyst Dmitry Bolkunets.
- Why is it important to show solidarity with the workers today?
- I think the Belarusian society is waiting for change and is ready for action. Everyone is ready to show solidarity with those who have been arrested, who are in exile. Everyone is waiting for some changes.
The demands voiced by the Belarusian Association of Workers are echoed among various social groups - medical workers, teachers, and so on. I am sure that this movement should expand.
A strike in Belarus may indeed be relevant because the country is now in a difficult epidemiological situation. So I'm sure that people should protect themselves in this way, i.e. stay at home. The world holds Striketober, when workers all over the world use the hashtag "Strike" and don't go to work.
- What is the unique nature of the situation in Belarus? Why can the strike become a turning point in the Belarusian revolution?
- Lukashenka is weak. One can see it from his actions, mental state, behaviour and inadequacy. I believe society has a chance to show strength and unity to force him into concessions, make him resign and hold new elections.
- How do you assess the effectiveness of the strike method based on historical experience and examples from other countries?
- In August 1980, there was an 18-day strike by Solidarność with 21 demands. It posted them on the fence of the shipyard in Gdańsk and led to the solution of so many issues of the time. Many people say Poland was different, people were different, and the Belarusians are not like them. Every country has its historical experience. One cannot just copy some methods.
There are always cases that have historical significance. The events of last August in Belarus had historical significance, but August is over. So now there is a new history. I feel sure that Belarus will still demonstrate its aspiration to change.
- Experts note that a serious "external front" is now developing against Lukashenka: the EU is preparing the fifth package of sanctions; the US Senate has passed a resolution to tighten pressure on the regime; Minsk's tensions with the Kremlin and China are intensifying. To what extent is the international environment conducive to the opening of a "second" strike front inside Belarus?
- External pressures contribute to certain conditions that can influence the situation, including the domestic agenda and the mood in Belarusian society. Any actions of the outside players - in the West, in the East, in China as well - may push the society in a positive direction. Lukashenka is an outcast. His actions make the country an outcast. Naturally, there can be no development with such a man.
Everyone should reflect and understand that Lukashenka is the past, the man who is leading Belarus towards collapse and disaster. One should do one's best to stop this person, isolate him, either arrest him or allow him to leave the country.
- Lukashenka has recently attacked officials for measures to curb the epidemic. The dictator once again spoke out against wearing masks and mass vaccination. How adequate are these statements?
- Lukashenka is not a specialist, as he stressed at the meeting. I think that as a layperson he can say whatever he wants. It is not appropriate for a person who considers himself the leader of the state to behave this way.
He should rely on the opinion of specialists, not impose his point of view, which is, from a medical point of view, wrong. And so, taking wrong decisions at a high level entails tragic consequences, because many people died last year and die now because of his inept policy. The death toll amounts to tens of thousands of victims.
The officials who sit there cannot stand up and say, "Sasha, you are a fool, what are you talking about". There are cowards there who are only acquiescing. It was funny to watch the head of the Ministry of Internal Affairs being told off by Lukashenka that the police go around and tear off masks. On one hand, this head of the Ministry of Internal Affairs saves Lukashenka. On the other hand, he stands up like a boy and listens to him being told off and beaten in front of everyone. That's the kind of ministers and generals in Belarus - cowardly, totally incapable of expressing their point of view.
- In your interview with Studio X97, you said to Belarusian workers: "Save your lives and don't go to work". Why is staying at home the best way out for many families in Belarus now?
- I think it's the best way out to stay at home when an epidemic is raging. Even if a person is vaccinated, it's better not to walk down the street, to avoid events, including enterprises, schools and universities. I know that many children contract COVID-19, and it is very difficult for them to fight this disease. So it is the best option for workers to stay at home. Schoolchildren and students should switch to online learning.