Media Reports How Much Money Goes To Salaries Of Dynama Minsk HC Players, Sponsored From Pockets Of Oil Workers, Miners
15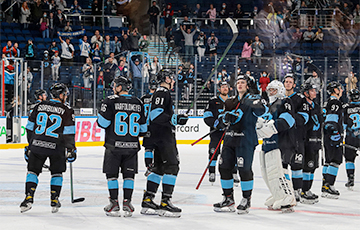 And this is without various bonuses.
Almost $ 6 million a year are spent on the salaries of the Dynama HC players. This information was published by the sports publication Sport24. This data does not include bonuses, which are probably also provided. The publication emphasizes that the figures are approximate, since it is impossible to calculate the statements for sure due to transfers, the movement of players between the teams of the system, and the list of injured.
According to the KHL regulations, today there is a strict "ceiling" for salaries in the amount of 900 million Russian rubles and a "floor" - 315 million (we are talking about the maximum and minimum amount). These are $ 12.7 and $ 4.5 million, respectively.
If we take the budgets of the clubs of the Western Conference, where Dynama Minsk is playing, then the Belarusian club takes the eighth place - 420 million Russian rubles (almost $ 6 million at the current exchange rate). Ahead are CSKA, Lokomotiv ($ 12.7 million), SKA (about $ 12.4 million), Dinamo Moscow (about $ 10.9 million), Jokerit (about $ 10.1 million), Spartak (about $ 7.9 million) and Torpedo (about $ 6.8 million). Behind Dynama were Vityaz, Severstal, Sochi and Dinamo Riga.
The general sponsor of the Minsk Dynama is the state-owned enterprise Belaruskali, the general partner is the Mazyr Oil Refinery.