"Mass Act Of Defiance": Belarusian Students Discuss General Strike
2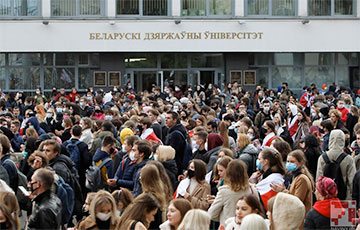 Young people are sure that the university strike of 2020 is not the last one.
On October 26, 2020, one of the most powerful and consistent actions of the student community began: the general strike, reminds the Assotiation of Belarusian Students (ZBS).
"Unfortunately, we were almost alone in the field: the students were almost the only ones who took to the streets en masse, demonstrating strength of spirit and amazing resilience.
We do not regret anything: it was a mass act of defiance against the illegal authorities and their proxies in the administration of universities, and we are convinced that it was not the last one," the students say about the general strike.
We remind that the leader of the Belarusian Association of Workers, Siarhiei Dyleuski, announced the beginning of the strike since November 1.