Dzmitry Balkunets: We Can Make Junta Hold New Elections
17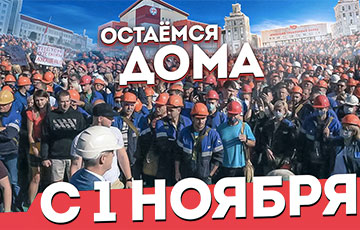 We can achieve results only by active action.
Prominent Belarusian political analyst and blogger Dzmitry Balkunets has addressed Belarusians on his YouTube channel on the eve of the strike, which begins on November 1. We publish the text of his appeal.
"Dear friends!
Over the past year, Belarus has faced a time of trials. Last year 2020 has changed the country. We started to write a new page of our history.
Now there are two bad things in Belarus: COVID-19 and dictator Lukashenka. Hundreds of our compatriots die daily because of these two evils. People die in hospitals and prisons, from lack of oxygen, medicine and torture. Close family members who are worried about the fate of their loved ones die.
Every trial in our lives rewards us with wisdom and willpower! We should not give up, get depressed and wait for help from the outside. The day will follow the night and the sun will surely come out after the storm.
The country is in the throes of a severe political crisis. Its consequences will be felt by each of us. Recently, the Belarusian Association of Workers put forward ten demands to the authorities, among the most important of which were the end of repression, release of political prisoners, negotiating about the terms of new presidential and parliamentary elections, and protection of the population from COVID.
The Belarusian government ignores the voice of the society and doesn't take any action. In this situation, I consider it necessary to urge each of you to show your civic position and stay home. Let it be a new form of strike.
There is another outbreak of coronavirus infection in Belarus. Medics are working two or three shifts and are doing their best to save lives. The irresponsible policy of citizen Lukashenka and his junta resulted in a lot of casualties last year. The situation is no better now. Mass events are being held at the height of the pandemic, and the vaccination campaign has also failed.
Since the authorities are not taking effective measures to protect the population from the coronavirus, it is wise for us to act ourselves and introduce a public lockdown. This way, we can save lives and protect ourselves from the spread of the coronavirus.
We can get results only by taking active action! We are in a situation where society has the opportunity to demonstrate its strength and unity! If workers, clerks, transport, store and bank employees do not go to work, students and schoolchildren do not go to school it will be a manifestation of civic position in support of workers' demands!
This is the only way to make the junta release all hostages from prisons and hold new elections!
Otherwise, Belarus will face mass emigration, international isolation, and impoverishment of its population. The actions of Lukashenka and his junta fuel the fire of civil war, create security threats for neighboring countries, and lead to new sanctions against Belarus.
It is time to stop it!
Now a lot depends on each of us.
I made my choice a long time ago and have never regretted it. Never look back!
Don't be afraid to make a step forward.
People ask me, what can I do alone against the regime? In the current circumstances, stay at home and ask at least ten of your friends and acquaintances to do the same. Don't shift the responsibility to someone else. Don't be afraid to take a step.
We have to face complicated tasks ahead in order to reform different areas of life in the country, to overcome the split in the society, and to restore Belarus' reputation in the international arena.
Now our task is to act together and turn the shameful page of our history - to get rid of the dictator," said Dzmitry Balkunets.