Armed Belarusian Siloviki Drove Migrants To Storm Lithuanian Border
11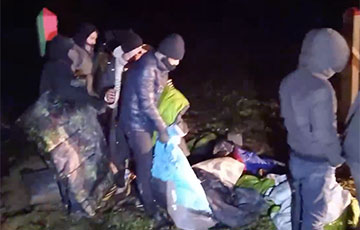 Lithuanian border guards stopped the provocation.
The Lithuanian State Border Guard Service on Wednesday presented a video showing a group of 13 illegal migrants.
The illegals on Wednesday night approached the Lithuanian border in the Shalchininki region, delfi.lt reports.
The migrants were accompanied by armed Belarusian security forces, they probably planned to drive illegal migrants into the territory of Lithuania, but they were not allowed to do so by the Lithuanian border guards.
According to the preliminary data, a large group of illegal immigrants was brought to this place on the territory of Belarus.
In the video released by the Lithuanian State Border Guard Service, there is a group of 13 adult men who said they were from Iraq. They said that they had arrived in Minsk and were immediately detained by the Belarusian security forces near the airport. After that, they were forcibly brought to the Lithuanian border and forced to go to Lithuania. The illegal immigrants themselves say that they do not want to go to Lithuania. Migrants claim that they planned to get to the border with Poland, and from there to go to Western Europe. Now they say they want to return to Minsk.
At the request of the migrants, the Lithuanian border guards gave them the phones of the Iraqi embassy in Moscow. Since the Belarusian security forces did not let them back, and the Lithuanian border guards did not allow them to cross the border, the illegal immigrants spent the night, as they thought, on "neutral territory".
In fact, there is no such concept, there is a border line, on one side of this line - Belarus, and on the other - Lithuania. There is no intermediate zone. Lithuanian border guards did not allow the migrants to set up a camp, which occupied 2 m of Lithuanian territory.
The men were ordered to move further, back to the territory of Belarus. On Wednesday morning, these migrants moved a little further from the border. According to the Lithuanian State Border Guard Service, later, accompanied by the Belarusian security forces, these people walked through the Belarusian territory near the border with Lithuania.
On November 8 Lukashenka's regime staged a large-scale provocation on the Polish border. Thousands of migrants under the control of the Belarusian special services stormed the Polish border. The Polish side reports that up to 10 thousand illegal immigrants may take part in the next assaults of the border.
On November 15, the Belarusian military drove the illegal immigrants under escort from their camp on the border with Poland to the Bruzgi-Kuzniсa checkpoint.
On November 16, the migrants set out to storm the Polish border.