"We Stayed In Belarus For Twenty Days And Spent $25,000"
60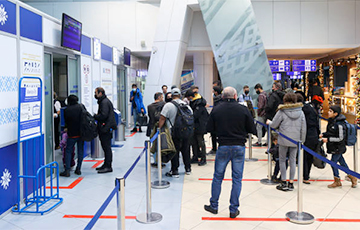 Interviews with Kurds who returned home.
The British channel Sky News released an interview with migrants who returned from Belarus to Kurdistan. In particular, the heroine of the interview said that she stayed in Belarus for twenty days and spent $25,000.
Migrants tell of how they were passed back and forth between Belarus and Poland's border as they return back to Erbil, in Iraqi Kurdistan.

Get more on this story: https://t.co/150wDj956L pic.twitter.com/wJYJqHKx2V

— Sky News (@SkyNews) November 19, 2021
We remind that on November 8, the Lukashenka regime arranged a large scale provocation on the Polish border. Thousands of migrants under the control of Belarusian special services stormed the border of Poland. The Polish side reports that up to 10 thousand illegal immigrants may take part in the next storming of the border.
On November 15, the Belarusian military drove the illegal immigrants under escort from their camp on the border with Poland to the Bruzhi - Kuznica checkpoint at the border.
On November 16, the migrants stormed the Polish border.