Belaruskali Strike Committee: Key Workers Can Stop Entire Enterprises
11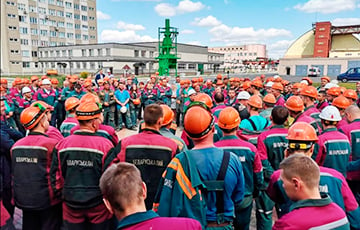 The striking Belarusians are the cream of the nation.
A strike was announced in Belarus on November 1. The strike committee of Belaruskali also supported the call of the leader of the Belarusian Association of Workers, Siarhei Dyleuski. It was reported that many employees of Salihorsk enterprise also stayed at home.
In an interview with Charter97.org, Uladzimir Timoshchanka, representative of the strike committee of Belaruskali, supported the striking workers:
- I would like to say a big human thank you to these people. They are the cream of the nation and the future of our country. These are the people who can think critically, they care not only about themselves, but about the whole Belarus. It can only cause pride and immeasurable respect. Finding themselves in a difficult situation, they took such a decisive step and were the first to act. I remember that it is very difficult to start, so I would like to bend the knee and really say thank you very much.
- Last August there was a strike at Belaruskali. A number of mines came to a halt. What was done right and wrong at that time? What mistakes should have been avoided?
- The main mistake was believing the trade union leaders and trying to stay within the law. In a country where the laws didn't exist before, where they simply didn't work, we tried to take the right steps. That was the most key mistake. Time was lost; we didn't pay attention to the really important things.
The strike committee started addressing certain workers who were the key ones from day one. While we were at the mines, we addressed them directly. Thanks to these point-to-point conversations, three mines were completely shut down.
- What problems does the company have because of the impending U.S. sanctions?
- The loss of the sales market is very serious, so now the Salihorsk enterprise is trying to unload the mines at an accelerated pace. When the market disappears, there will be no revenue.
Many banks refuse to work because of the sanctions, so the currency does not come. There is no possibility to make any transactions, especially in dollars. This creates difficulties for the work of all enterprises.
There are many companies who refuse to supply to Belaruskali, ranging from oils to some specific machines. Today there are difficulties both with the supply of raw materials and with the purchase of some equipment.