Dzmitry Bandarenka: Belarusian Workers Forced Their Agenda On Authorities
5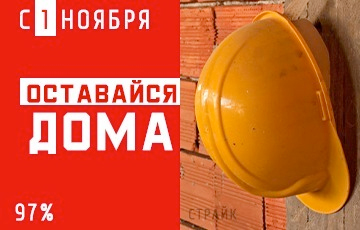 Hope returns to the country.
Worker leader Siarhei Dyleuski called on Belarusians to stay at home from November 1. The Belarusian Workers' Association calculated that on the first day from 10% to 30% of workers did not go to work for various reasons. What else has the workers' protest achieved, and what prospects does it have? The website Charter97.org talked about this with coordinator of the European Belarus civil campaign Dzmitry Bandarenka.
- The Belarusian Workers' Association managed to achieve one very important thing: it forced its own agenda on the authorities. We can say that the opposition has managed to carry out its sovereign and independent policy. Not to react to the stuffing of the authorities ("referendum on the Constitution", etc.), but to impose the topic of a strike, which is a significant form of protest. This is one of the main achievements.
Also, the topic of the strike is discussed in most Belarusian media. Naturally, classic media, bloggers, various commentators and users of social media, private chats discuss this topic in different ways. All this happened because even those people who did not join the strike think: what if it will work out. After all, the strike would change a lot: for the families of political prisoners it would allow the release of relatives and friends, for the diaspora - it is the hope of returning to their native country.
The emotional outcome of the first day of the strike - hope is returning to the country. We see that the interest of Belarusians in various media resources, Telegram channels and social networks has simply grown significantly.
Also, the figures that were announced by the Belarusian Workers' Association - from 10 to 30% of employees of many enterprises did not go to work for various reasons - these are impressive results for the first day.
Yes, we understand that most of these people are those who did not go to work due to COVID-19 and other respiratory diseases. However, a significant number of people heeded the call. According to my estimates, about 600 thousand people did not go to work because they are sick, are first-level contacts or are infected with COVID-19, but they have not been diagnosed (I know that there are also many such people), and 400 thousand did not go to work for various reasons, answering the call of the workers' leaders. It seems to me that this is just the beginning. Those who did not join the strike on November 1 can join on the 3rd or 5th. This process, in my opinion, will expand.
- Did the "stay at home" tactic justify itself? Many critics say this kind of protest is difficult to visualize.
- It seems to me that you can respect Siarhei Dyleuski for the development of non-violent methods of resistance, in particular - strikes. In general, Belarusians have been on strike very little over the past 120 years. That is why we live so badly, that is why we are the last in Europe in terms of salaries. We abandoned such a method of resolving conflicts in society as a strike.
For example, at one time in Poland, occupation strikes became a big step in the theory and practice of the strike movement. The Poles knew that when they took to the streets, their demonstrations were brutally suppressed. When they seized shipyards or other production facilities in various cities, it turned out to be a big surprise for the authorities. They did not take to the streets, they knew the territory of the enterprises very well, this was a big step forward.
The situation is different in Belarus. We do not have a developed trade union movement, independent trade unions unite very brave people, they can be respected, but they are proportionally few in relation to all workers. Therefore, "stay at home" is a creative step, a Belarusian contribution to the world strike movement.
The most important thing here is the safety of the protesters. It does not matter, as Siarhei Dyleuski said, for what reason the machines at the enterprise stop and the production premises become empty. Will people stay near the factory or stay at home? Therefore, staying at home is the most acceptable option today, because it saves lives. After all, Belarus has not seen such a level of morbidity since the time of the Spanish flu.
- The headquarters of Sviatlana Tsikhanouskaya distanced itself from the initiative of the strike. Why did this structure refuse to support the workers' decision to protest?
- If we recall the statements of Sviatlana Tsikhanouskaya, respected and beloved by many, then from the first days of her appearance on the political arena of Belarus she took many steps against any activity. "Let's not collect signatures", "I never support protests", "I never support a strike", "I am a weak woman, forgive me", and then postponing the actions for a long time, then on March 25, when it was possible to take to the streets and celebrate Freedom Day with dignity, some kind of vote was invented.
I see that the people who gathered in this headquarters, they devoted themselves with all their passion to one thing - international travel. Probably, they will achieve something there, but they really like it: Iceland, Portugal, Slovenia twice, Albania. All countries are "very important" for Belarus. I even heard that Sviatlana said that she was planning a trip to Latin America, China, Japan, Australia. These people focused on this, and Belarusians need to solve problems that worry them.
- How do you look at the difference in the wording that is in the media space. Someone is talking about the people's quarantine, someone is about a strike, someone is calling for a national quarantine? Is all this about one thing or is there a difference?
- The team of European Belarus very often ignored the so-called parliamentary and local "elections", as they did not decide anything. When people from the United Civil Party or the Communist Party went to the "elections", and then it turned out that these "elections" did not really happen, they said: "This is not because you called for a boycott, but because people did not come."
In our situation today, it does not matter for what reason people stay at home. If someone thinks that a strike is needed and therefore stays at home, great. Someone is aware of the risk of infection by going out or taking public transport to work. As journalist Iryna Khalip said, today every bus is like a powder keg. A person stays at home - it means they will not get sick, will not infect their loved ones, will not put them in danger.
People's quarantine is our Belarusian experience of resistance of civil society. After all, no one denies (and in the West they often talk about this) that one of the triggers of the Belarusian revolution was the behavior of the authorities during the COVID-19 pandemic and the response of civil society to this. Then, such leaders of the Belarusian opposition as Mikalai Statkevich, Andrei Sannikov, Uladzimir Niakliayeu, Henadz Fiadynich, Yauhen Afnahel, Pavel Seviarynets called for the People's Quarantine.
Opposition leaders found strength, understanding and called on the Belarusians to go on a lockdown. Civil society regrouped, understood the danger and people showed their best qualities: they helped doctors, helped the sick, and decided to stay at home.
Today, the situation with COVID-19 is much worse in terms of both the number of cases and mortality. People remember that then the People's Quarantine played a role. In the spring, we managed to bring down this wave a little.
We know that the peak of any colds associated with respiratory diseases, just in November-December, reaches a significant increase. I will not even say the climax, because in the end everything will depend on the number of vaccinated.
I would not pay attention to why a person stays at home. People understand that in addition to their own safety and the safety of their loved ones, they feel solidarity, the elbow of their comrades. They know that there are hundreds of thousands of them, and there will be (I am sure of this) also millions.
- What could be the strategy of those who stayed at home and all those supporting the actions of the strikers?
-I believe that if Belarusians were strong with this "soft power", used methods of nonviolent resistance, they made the whole world like them for this, showed effective solidarity action together, then the method of strike or People's Quarantine "Stay at home" is the development of the principle of solidarity actions.
For example, the action "ATM - exchanger - bank" led to the withdrawal of several billion dollars from the financial system of the regime. Hundreds of thousands of Belarusians took part in this action and this led to success. There are a lot of holes left: staff turnover in the law-enforcement agencies, officials dissatisfied with their salaries. Lukashenka is unable to "arrange paradise".
Alongside with sanctions, which cause enormous damage to the regime, a strike or People's Quarantine will simultaneously destroy the dictatorship and also protect us from COVID-19. In the end, everyone understands that at the beginning of the epidemic, Lukashenka was talking nonsense and giving idiotic orders, but we see that nothing has changed. He gives all the same moronic instructions, for example - not to wear masks, and most importantly, he does nothing to vaccinate. In normal countries, up to 70% of the population has already been vaccinated, but in Belarus there is nothing of the kind. Only then will Belarusians feel physical safety when Lukashenka is gone.
After all, Western countries are ready to help with the supply of vaccines, the International Monetary Fund has allocated money to fight COVID-19, and Belarus does not have enough vaccines. The Chinese drugs have disappeared, people are vaccinated with Sputnik Light, which is not suitable for the first vaccination, but it is better than nothing. It would be possible to get free vaccines as help, but this does not happen, since there are just idiots in power.
By protecting ourselves and our families, we bring power change and freedom closer. It is also important to understand that these actions still require our coordination (at least at the local level), a certain courage, as well as the inclusion of intelligence. The Belarusian people have all these qualities. Now I am sure that we can apply them with effect, and then we will see what Mikalai Statkevich wrote about: if Belarusians have hope, you will not recognize them. We, Belarusians, will be surprised at ourselves. It seems to me that this is the very moment. You just need to open your eyes.