Security Services Drive Migrants to Attack Poland, but They Can Turn Against the Regime in Belarus
19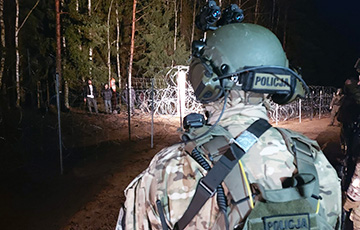 (To be updated) During the day, the Polish border guards repulsed 174 attempts to storm the border.
Belarusian security forces continue to send illegal migrants to break through the Polish border. Polish intelligence notes that the attacks are becoming more aggressive.
Meanwhile, a split has occurred in the migrant camp in Bruzgi, and the situation is heating up. Experts note that specially trained people among illegal immigrants can become a problem for the Belarusian regime.
The Charter97.org website has collected the main news about what is happening on the border of Belarus and Poland.
10.14 Migrants in Bruzgi are divided into groups. Relations between Yezidis and Kurds are heating up. The warring parties even try not to sleep nearby.
Deputy Chairman of the World Congress of Yezidis Khudo Bakoyan, who lives in Hrodna, spoke about this.
10.27 A large group of migrants (more than 50 people) went to storm the Polish border at night in the Bialowieza region. At the same time, the Belarusian special services tried to blind the Polish border guards with a laser.
Rejon Białowieży: kolejna próba nielegalnego przekroczenia granicy została wczoraj udaremniona przez żołnierzy i funkcjonariuszy. Atak agresywnych migrantów był wspierany przez białoruskie służby. pic.twitter.com/jnedZOfCzb

— Ministerstwo Obrony Narodowej 🇵🇱 (@MON_GOV_PL) November 23, 2021
"Another illegal border crossing attempt was thwarted by soldiers and officers yesterday. The attack by aggressive migrants was supported by the Belarusian special services," the Polish Defense Ministry said.
10.05 Over the past 24 hours, 174 attempts to illegally cross the Polish border by illegal immigrants from the Belarusian side were recorded.
This is reported by the Polish Border Service.
Wczoraj tj.22.11 na gr.🇵🇱🇧🇾odnotowano 174 prób jej nielegalnego przekroczenia.Wobec 66 cudzoziemców #funkcjonariuszeSG wydali postanowienia o opuszczeniu terytorium RP.
Na odcinku ochranianym przez Placówkę SG w Białowieży 50 agresywnych cudzoziemców próbowało sforsować granicę. pic.twitter.com/TQdwYlFM7x

— Straż Graniczna (@Straz_Graniczna) November 23, 2021
8:43 Polish border guards more often notice drunken Belarusian security officials.
This makes the situation at the border even less predictable.
Press secretary of the Polish Border Service Anna Michalska said that Polish border guards are recording signals indicating that "Belarusian security forces may be drunk."
Pijani Białorusini pod bronią pełnią służbę na granicy. To nie pierwszy taki przypadek, z którym spotkali się nasi żołnierze. pic.twitter.com/LwNdYVh74c

— Ministerstwo Obrony Narodowej 🇵🇱 (@MON_GOV_PL) November 21, 2021