More Than 100 Aggressive Migrants, Throwing Stones, Attacked Polish Border Guards
2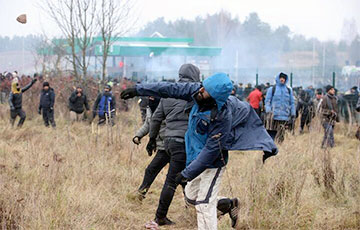 The attack was led by Belarusian special services.
Yesterday at about 7 p.m. a group of more than 100 aggressive foreigners tried to storm the Polish border by force. They were throwing stones at the Polish border guards.
This is reported by the Polish Border Guard Service.
The attack was monitored by the Belarusian special services.
Wczoraj tj.23.11 ok.19.00 grupa ponad 100 agresywnych cudzoziemców siłowo forsowała granicę🇵🇱🇧🇾. W służby polskie rzucano kamieniami.
Atak odbywał się pod nadzorem białoruskich służb.#zgranicy pic.twitter.com/vGwLO5MVvb

— Straż Graniczna (@Straz_Graniczna) November 24, 2021
We remind that on November 8, the Lukashenka regime arranged a large scale provocation on the Polish border. Thousands of migrants under the control of Belarusian special services stormed the border of Poland. The Polish side reports that up to 10 thousand illegal immigrants may take part in the next storming of the border.
On November 15, the Belarusian military drove the illegal immigrants under escort from their camp on the border with Poland to the Bruzhi - Kuznica checkpoint at the border.
On November 16, the migrants stormed the Polish border.