Large Groups Of Illegal Migrants Attack Polish Border Guards, Throw Grenades
20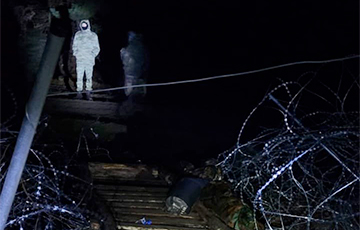 Attempts to break through the border took place in the Mielnik area.
At the site guarded by the Polish border outpost in Mielnik, there were two forceful attempts last night to cross the Polish border.
Groups of aggressive foreigners, 40 people in each, attacked the Polish border guards, throwing stones, tree trunks, and stun grenades at them.
This was reported by the Polish Border Service.
Na odcinku ochranianym przez Placówkę SG w Mielniku miały wczoraj tj.23.11 miejsce dwie siłowe próby przekroczenia granicy. 40-osobowe grupy agresywnych cudzoziemców atakowały polskie służby rzucając kamieniami, konarami drzew, użyte były również granaty hukowe.#zgranicy pic.twitter.com/87naitHT15

— Straż Graniczna (@Straz_Graniczna) November 24, 2021
Important to note, on November 8 Lukashenka's regime staged a large-scale provocation on the Polish border. Thousands of migrants under the control of the Belarusian special services stormed the border of Poland. The Polish side reports that up to 10 thousand illegal immigrants may take part in the next assaults of the border.
On November 15, the Belarusian military drove the illegal immigrants under escort from their camp on the border with Poland to the Bruzgi-Kuznica checkpoint.
On November 16, the migrants set out to storm the Polish border.