'Executive Office Orders People To Go To Help Migrants As Volunteers!'
62
24.11.2021, 13:23

105,824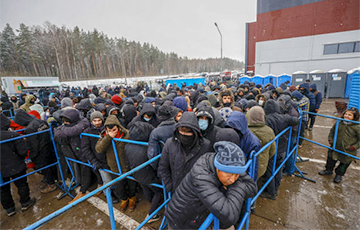 The heart cry of the budget employee from Masty.
A subscriber of the BOR Telegram channel from the Hrodna region shared the following information:
"I work in Masty. Now the executive committee, by order, demands from all spheres to provide the people "willing" to go as volunteers to migrants!
This is just outrageous!
The old man took them to our country, unleashed the migration crisis, they have a coronavirus of unknown strain there, and he still takes money from them to the treasury through exchange offices, food, clothes. And now ordinary people should participate in this circus!
And on TV they will say that Belarusians are "a kind and generous people who immediately rushed to help migrants".
Nobody agrees to participate in this. Many are already shouting that they will not go anywhere even under the threat of dismissal. But there was a "kind soul" who agreed to all this."
The Telegram channel adds: no one can force you to do something you do not want to do. Fight for your rights, do not fall for persuasion and empty threats!
Strike, Belarus!