Polish Military Showed How Place Of Toughest Border Attacks By Migrants Look
2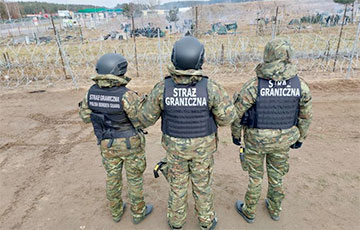 The outpost in Dubicze-Cerkiewne is attacked almost every night
Polish Border Guard officers on duty have published a video of what the place of the harshest attacks on the border by migrants looks like.
The district of service responsibility of the Polish Border Guard outpost in Dubicze-Cerkiewne is attacked almost every night.
#FunkcjonariuszeSG na służbie - granica 🇵🇱🇧🇾.
Rejon służbowej odpowiedzialności Placówki SG w Dubiczach Cerkiewnych. #NaStrażyGranic #NaStrażyBezpieczeństwa pic.twitter.com/iozBCZ8VN8

— Straż Graniczna (@Straz_Graniczna) November 24, 2021
We remind that on November 8, the Lukashenka regime arranged a large scale provocation on the Polish border. Thousands of migrants under the control of Belarusian special services stormed the border of Poland. The Polish side reports that up to 10 thousand illegal immigrants may take part in the next storming of the border.
On November 15, the Belarusian military drove the illegal immigrants under escort from their camp on the border with Poland to the Bruzhi - Kuznica checkpoint at the border.
On November 16, the migrants stormed the Polish border.