Polish Armed Forces Showed How Things Were At Night Along Border With Belarus
6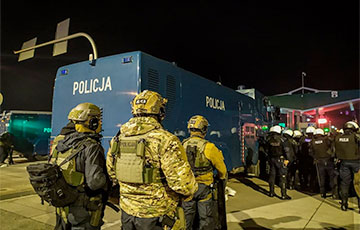 The Polish services are on heightened alert 24 hours a day.
Polish Armed Forces soldiers support the police and border guards in protecting the country's borders around the clock.
Soldiers of the Polish Armed Forces have published video of what was happening tonight on the border with Belarus.
Przez 24 godziny na dobę żołnierze #WojskoPolskie 🇵🇱 wspierają @PolskaPolicja i @Straz_Graniczna w ochronie naszych granic. Razem dbamy o bezpieczeństwo 🇵🇱. #TakieJestWojskoPolskie pic.twitter.com/0IUxfoMUJD

— Ministerstwo Obrony Narodowej 🇵🇱 (@MON_GOV_PL) November 24, 2021
We remind that on November 8, the Lukashenka regime arranged a large scale provocation on the Polish border. Thousands of migrants under the control of Belarusian special services stormed the border of Poland. The Polish side reports that up to 10 thousand illegal immigrants may take part in the next storming of the border.
On November 15, the Belarusian military drove the illegal immigrants under escort from their camp on the border with Poland to the Bruzhi - Kuznica checkpoint at the border.
On November 16, the migrants stormed the Polish border.