Situation At Polish Border Aggravated: Migrants Made Breakthrough Attempts 375 Times
4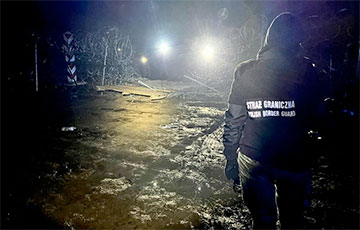 The largest group of illegals attacked near Czeremcha.
During the last day there were 375 attempts to break through the Belarusian-Polish border.
This was reported by the Polish Border Guard Service.
There have been issued orders for the compulsory expulsion of 56 foreigners from Poland. Two illegal migrants, citizens of Iraq, were detained.
More than 200 people stormed the border at the section guarded by the Polish border guards in Czeremcha.
Wczoraj tj.24.11 na gr.🇵🇱🇧🇾375 prób jej nielegalnego przekroczenia.Wobec 56 cudzoziemców #funkcjonariuszeSG wydali postanowienia o opuszczeniu Polski.Zatrzymano 2 nielegalnych imigrantów-ob.Iraku.
Na odcinku ochranianym przez PSG w Czeremsze grupa ponad 200 os. forsowała granicę. pic.twitter.com/W2QjV7xHZ8

— Straż Graniczna (@Straz_Graniczna) November 25, 2021
We remind that on November 8, the Lukashenka regime arranged a large scale provocation on the Polish border. Thousands of migrants under the control of Belarusian special services stormed the border of Poland. The Polish side reports that up to 10 thousand illegal immigrants may take part in the next storming of the border.
On November 15, the Belarusian military drove the illegal immigrants under escort from their camp on the border with Poland to the Bruzhi - Kuznica checkpoint at the border.
On November 16, the migrants stormed the Polish border.