Mateusz Morawiecki: Lukashenka Faced Decisive Resistance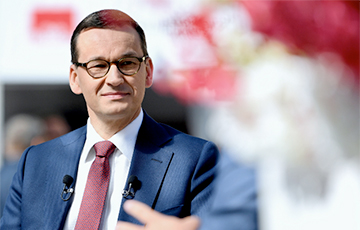 The Prime Minister of Poland used the catchphrase of the ancient Romans to describe the situation on the border.
Polish Prime Minister Mateusz Morawiecki visited Slovenia on Wednesday, where he met with Prime Minister Janez Jansa, tvp.info reported.
"Today I visited Slovenia, which currently holds the presidency of the European Union, so the conversation with Prime Minister Janez Jansa is extremely important in terms of building a secure, fair, and solidarity-based European community," Mateusz Morawiecki wrote on Facebook on Wednesday.
"We agree that many European countries are feeling the narrowing of the Russian energy noose around them, as well as an increase in propaganda and hacker attacks aimed at destroying our solidarity," the head of government said.
"I saw this consistency in diagnosing problems and threats this morning also during a meeting with French President Emmanuel Macron," the Polish Prime Minister stressed.
According to him, during the meeting with Janez Jansa, politicians also raised the issue of illegal migration, primarily in the context of the threat to Poland's eastern border, but also in other directions. "It cannot be that the inhabitants of southern and African countries decide who can enter the territory of the European Union and NATO," wrote Mateusz Morawiecki.
He also said that, during the meeting, they discussed cooperation within the framework of the Three Seas Initiative, which strengthens our economic, trade, and cultural ties. "The natural theme was also the issue of the Western Balkans and support for their aspirations for membership in the European Union," the politician added.
Today the Lukashenka regime has met with strong resistance and rebounded from the eastern border of the European Union, but the sheer number of challenges faced by a united Europe means that a new period of destabilization is approaching, the Prime Minister said.
"We don't want that, so we will work together to find better solutions to emerge victorious from this series of crises that we are experiencing, which is a time of trial for Europe," the Polish prime minister said.
"Hannibal ante portas - as the ancients said. When the enemy is at the gate, there is no time for arguments in the European family! I would like to thank Prime Minister Janez and the Slovenian chairmanship for today's very fruitful negotiations," wrote the head of the Polish government.
The crisis continues on the borders of the European Union and Belarus after the number of illegal attempts to cross the Belarusian border with Lithuania, Latvia, and Poland by migrants from the Middle East, Africa, and other regions sharply increased in the spring. The EU and member states emphasize that this is the result of the deliberate actions of the regime of Aliaksandr Lukashenka, which instrumentally uses migrants as a response to sanctions.