Night Attack Near Czeremcha: Migrants Destroyed Barbed Wire Fence
5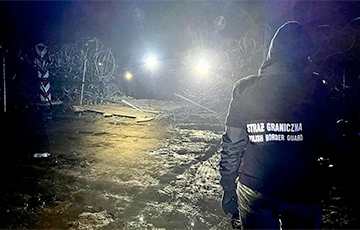 An aggressive group of 200 illegal immigrants has attacked the border with Poland.
A group of more than 200 aggressive migrants have stormed the Polish border near the village of Czeremcha in Podlasie, TVP reports.
In the photo, provided by officers of the Polish Border Guard, you can see the destroyed barbed wire dam at the border.
During the last day, 375 attempts of illegal crossing of the Belarusian-Polish border were recorded.
Wczoraj tj.24.11 na gr.🇵🇱🇧🇾375 prób jej nielegalnego przekroczenia.Wobec 56 cudzoziemców #funkcjonariuszeSG wydali postanowienia o opuszczeniu Polski.Zatrzymano 2 nielegalnych imigrantów-ob.Iraku.
Na odcinku ochranianym przez PSG w Czeremsze grupa ponad 200 os. forsowała granicę. pic.twitter.com/W2QjV7xHZ8

— Straż Graniczna (@Straz_Graniczna) November 25, 2021
#FunkcjonariuszeSG na służbie - granica 🇵🇱🇧🇾.
Rejon służbowej odpowiedzialności Placówki SG w Dubiczach Cerkiewnych. #NaStrażyGranic #NaStrażyBezpieczeństwa pic.twitter.com/iozBCZ8VN8

— Straż Graniczna (@Straz_Graniczna) November 24, 2021