Polish Intelligence Services Exposed Five Fakes About Migrants From Belarus
1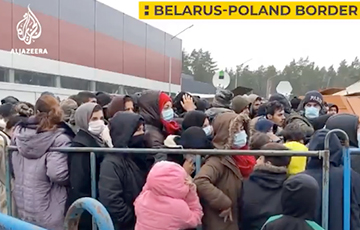 Lukashenka bears full responsibility for the fate of illegal immigrants.
The press secretary of the minister-coordinator of the Polish special services Stanislaw Zaryn on his Twitter account criticized the editorial staff of the Al-Jazeera TV channel for the fact that its "content is completely biased and misleading."
At the same time, he denied five, according to him, manipulations about the situation at the border.
"These foreigners are not "between Belarus and Poland." They are in Belarus, where they came as tourists at the invitation of the authorities. Lukashenka bears full responsibility for their fate," Stanislaw Zaryn said about the first manipulation.
According to him, "the influx of migrants from beginning to end is organized by the Belarusian services" which "collect migrants in groups and then send them to the Polish border, forcing them to attack the Polish patrols."
"We are dealing with a state-sponsored aggression against Poland," Zaryn said, referring to the second manipulation.
In response to the third fake, a representative of the Polish special services said that Minsk "lied to them (to migrants - ed.) and tricked them into thinking that the way from Belarus to Poland was easy."
"This is not true and never will be. We are defending our border, which we have every right to do, "he said.
As a fourth manipulation, Zaryn cited statements that Poland had met foreigners with tear gas.
"They stormed our border, threw stones and logs at our officers, tried to illegally enter Poland. It was a brutal attack. They were greeted with adequate measures taken by the attacked side," he stressed.
Finally, Zaryn said that the political crisis was created and is under the control of the Belarusian authorities; the migrants are hostages of the dictator, who are being used to strike at the EU.
"By smoothing out his responsibility and placing the blame on Poland, you are helping him to continue the aggression," concluded a representative of the Polish special services.