How Illegal Immigrants Who Were Brought to the Sanatorium Svitanak Were Missing and Found
7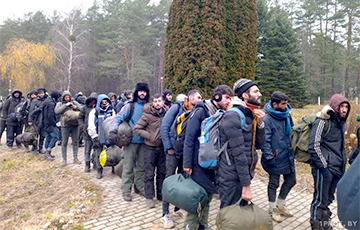 It turned out to be a short and revealing story.
After an attempt by migrants to storm the Belarusian-Polish border, they were placed in the Bruzgi trade and logistics center. The next day, four buses took a large group of people out of it. It was explained to the press that the migrants are being taken to the Svitanak sanatorium in the village of Parechcha, so as not to "create a crowd." Official trade unions solemnly brought them humanitarian aid, a story was shown on Belarusian television, but when zerkalo.io asked the administration of the sanatorium how the migrants were doing now, it turned out that they were not there. We managed to find these migrants, and it turned out to be a short and illustrative story.
On the morning of November 17, four buses with migrants left the trade and logistics center. As the media reported with reference to the Red Cross, the plan was to accommodate people elsewhere in order to "not create a crowd in the logistics center."
The message on the website of the Red Cross indicated that, on that day, 106 people, including 11 children, were placed in the Svitanak sanatorium in the village of Parechcha.
On the same day, the official trade unions reported on the provision of assistance to migrants in the sanatorium.
"Members of the FPB handed out food packages to refugees, containing milk, yogurts, bread, biscuits, water, fruit puree, juices, barley porridge with meat. First of all, the help was received by women and children," the message reads.
The next day, the Belarus 1 TV channel aired a story about migrants accommodated in a sanatorium: it showed the accommodation conditions and the refugees' gratitude to the Belarusian authorities for the assistance provided. In this story, Andrei Matskevich, chairman of the Parechcha rural executive committee, said that the sanatorium has "everything people need." The Hrodna Regional Ice Hockey Federation and the Parechcha Village Council took care of the migrants staying in the sanatorium.
After that, the migrants from Svitanak disappeared from the media field.
Today, November 25, the correspondent of the newspaper called the sanatorium to find out how people feel and whether they need any help. It turned out that they were no longer there. The migrants were taken away, but the employees of the sanatorium were not told where exactly.
The Red Cross is still convinced that migrants are in a sanatorium.
However, he managed to find out where the migrants from the sanatorium had disappeared to the Parechcha Village Council, which, as it was said in the TV report on Belarusian TV, took over the custody of the migrants.
They said that people were taken from the sanatorium back to the Bruzgi trade and logistics center.