The Belarusian Military Brought the Attackers in Trucks: New Details of the Attack of Migrants With a Knife Near Bialowieza
12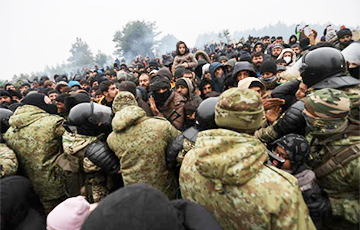 The sabotage in which Polish soldiers were wounded was directed by the Belarusian special services.
A group of about 100 aggressive migrants attacked a post on the Polish-Belarusian border in the vicinity of Bialowieza. The action was controlled by the Belarusian special services, which blinded Polish officers and soldiers with lasers and stroboscopes. The border guards reported that the attack was repulsed. Two Polish soldiers were injured, TVP reports.
Press secretary of the Polish Border Service Anna Michalska reported details of the night attack, during which the group of more than 100 people tried to forcefully invade Polish territory on a section of the border guarded by an outpost in Bialowieza.
"These people were brought to the border by the Belarusian military in trucks. In the dark, they launched an attack, throwing stones, pieces of wood, pieces of pipes from the fence," Anna Michalska said.
Polish soldiers were blinded with strobes and lasers, two were injured. The Ministry of Defense reported that among the items found with the migrants was a knife.
Wczoraj tj.26.11 gr.🇵🇱🇧🇾próbowało nielegalnie przekroczyć 206 osób. Próbom tym zapobieżono.
Za pomocnictwo #funkcjonariuszeSG zatrzymali 7 cudzoziemców:6 ob.Gruzji i ob.Rosji.
Na odcinku ochranianym przez Placówkę SG w Białowieży,służby odparły atak na granicę grupy 100 osób. pic.twitter.com/UF1rLS3Jx9

— Straż Graniczna (@Straz_Graniczna) November 27, 2021
Ponad 100-osobowa grupa cudzoziemców forsowała wczoraj granicę🇵🇱🇧🇾na odcinku ochranianym przez Placówkę SG w Białowieży.
Podczas ataku,służby białoruskie oślepiały polskich funkcjonariuszy i żołnierzy laserami i stroboskopem.
Dwóch żołnierzy WP zostało niegroźnie poszkodowanych. pic.twitter.com/FVYDrmujj2

— Straż Graniczna (@Straz_Graniczna) November 27, 2021