Migrants Now Placed In 'Yabatkas' Houses And Apartments
53
28.11.2021, 14:59

163,284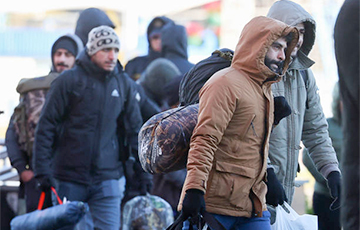 They are looking for the single, old or childless.
Residents of border towns are beginning to complain that Lukashists are starting to repeat the practice of looking for loyal residents to whom they can "sell" the tourists, the CYNIC Telegram channel writes.
Apparently calculations have proved that the "winter camp" is a heap of corpses with a zero effect, so they are trying to "shove" the tourists into the population. According to people, they do not speak directly about "tourists", but start the conversation "from afar" - they are looking for single people, old or childless, who are quite loyal to the regime.
Let's be honest: there are not many of them. And even fewer of them become when the "Yabatkas" learn about the request of the authorities. The reader reports that her grandmother supported Lukashenka and referred to the intrigues of the insidious West until there was a knock on her door with an interesting offer to "spend the night". First, a tourist knocked like that, then a man who introduced himself as a member of a volunteer organization.
Somehow, the initiative with tourists is increasingly undermining Lukashenka's rating among his fans. Another reader says: "My mother was for Lukashenka. Stability, salary, security - all the work. Now she is afraid to sleep alone in the house and go to work. "What if "these people" come," she says. And her friends were for Lukashenka, they were waiting for a "strong hand." Everyone, as one, is now saying: "Lukashenka sold us. No money, no stability, no security."
Important to note that on November 8 Lukashenka's regime staged a large-scale provocation on the Polish border. Thousands of migrants under the control of the Belarusian special services stormed the Polish border. The Polish side reports that up to 10 thousand illegal immigrants may take part in the next assaults of the border.
On November 15, the Belarusian military drove the illegal immigrants under escort from their camp on the border with Poland to the Bruzgi-Kuznica checkpoint.
On November 16, the migrants set out to storm the Polish border.
After that, the migrants were placed in the Bruzgi logistics center at the border. Polish intelligence reported that the Belarusian security forces turned the Bruzgi center into a base for migrant attacks on Poland.
On November 26, Lukashenka visited the camp of migrants to incite them to another assault on the Polish border.