Andżelika Borys Needs Medical Aid In Prison
6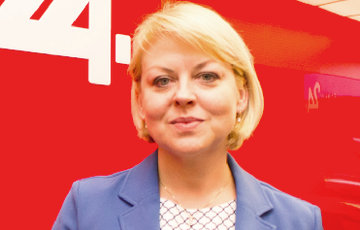 The health of the head of the Union of Poles in Belarus is deteriorating.
The health of the head of the Union of Poles in Belarus Andżelika Borys is deteriorating in the Zhodzina pre-trial detention center, Belsat reports.
The Union of Poles in Belarus informs that now Andżelika Borys looks very unhealthy and needs an urgent examination by a doctor using ultrasound equipment. She also needs to undergo a number of other tests.
It is known that Borys suffers from a serious illness of the gastrointestinal tract and liver.
"From the descriptions of the appearance of Andżelika Borys, it is clear that she looks very exhausted, she has an earthy yellow skin color, which may indicate liver disease. She also has intense hair loss," the Union of Poles in Belarus reports.
Inesa Todryk-Pisalnik, a close acquaintance of Andżelika, who was also detained in April, recalls that even before her arrest, Andżelika Borys had frequent headaches and abdominal pains, and in stressful situations her hair fell out.
Without medical examinations, it is impossible to say whether her poor health is a consequence of an exacerbation of existing diseases, or whether these are symptoms of a new disease.
Due to the sanitary conditions in the cells, the weakened body of Andżelika Borys could catch a new disease.
The closest associates of Andżelika Borys, who are worried about the deteriorating health of their colleagues, ask people from the sphere of politics and business who have the opportunity to contact decision-makers in the authorities of the Republic of Belarus, use their contacts and immediately take measures to provide Andżelika Borys with the necessary professional medical care ...
Chairperson of the Union of Poles in Belarus Andżelika Borys and a member of the organization Andrzej Poczobut were detained within the framework of the "case of the Poles" on Freedom Day, March 25. They were accused of "inciting hatred" (Article 130 of the Criminal Code of the Republic of Belarus) for publishing and popularizing knowledge about the Polish anti-communist underground in Hrodna region.
Last week, on November 25, their detention was extended for another three months, until February 25, 2022. Both face up to 12 years in prison. Belarusian human rights activists recognized them as political prisoners.