Poland Not To Resume Work Of Kuznica Checkpoint Yet
1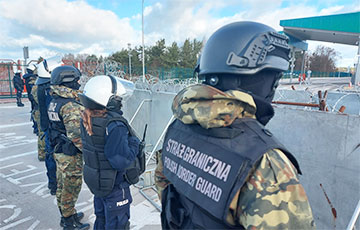 Polish border guards spoke about the situation at this site.
The Polish side does not plan to resume the work of the road border crossing in Kuznica on the border with Belarus in the near future. This was announced on Tuesday at a briefing by the spokesperson for the Polish border guard service Anna Michalskaya.
"Let's see how the situation will develop. There is no information yet that this checkpoint will be opened in the coming days," she said.
Konferencja @Straz_Graniczna #wieszwięcej #RaportzGranicy pic.twitter.com/6SpFUeLbkO

— tvp.info 🇵🇱 (@tvp_info) November 30, 2021
Important to note, on November 8 Lukashenka's regime staged a large-scale provocation on the Polish border. Thousands of migrants under the control of the Belarusian special services stormed the border of Poland. The Polish side reports that up to 10 thousand illegal immigrants may take part in the next assaults of the border.
On November 15, the Belarusian military drove the illegal immigrants under escort from their camp on the border with Poland to the Bruzgi-Kuznica checkpoint.
On November 16, the migrants set out to storm the Polish border.
After that, the migrants were placed in the Bruzgi logistics center at the border. Polish intelligence reported that the Belarusian security forces turned the Bruzgi center into a base for migrant attacks on Poland.
On November 26, Lukashenka visited the camp of migrants to inspire them for yet another assault on the Polish border.