"They Locked Us In A Room": Migrants Who Returned Home Reported New Tactics Of Belarusian Law Enforcers
8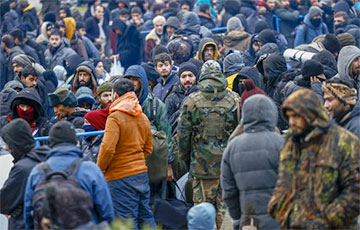 A Swiss newspaper quotes the stories of three Kurds.
Belarusian law enforcement officers have introduced new tactics against migrants on the Belarusian-Polish border. It is reported by the Swiss newspaper Neue Zürcher Zeitung.
The newspaper quotes the stories of three Kurds: Didar Wahab, Hassan Hussein and Serkan Bekir. They, along with other Kurds, tried to cross the border with the EU in different places: some of them went to Lithuania and some to Poland, and one group even managed to get to the Polish-German border. But they were all caught by European police or border guards and sent back to the border with Belarus.
After that, according to them, the Belarusian law enforcement officers did not help them to get back to the EU.
"They took our passports from us and put us in a room at the airport. There they kept us until we boarded the plane to Erbil," says Didar Wahab.
Hassan Hussein's group was detained by the security forces and taken to the airport as soon as they set foot on Belarusian soil again.
"Regardless of whether we wanted it or not. I did not want to," adds Hassan Hussein.
They did the same thing to a group that included 21 Kurds along with Serkan Bekir.
"I didn't want to, but it was useless to object. They locked us in a room [at the airport] for six days. Six days!" says Serkan Bekir.