"Full Package to Germany Costs $12,000"
23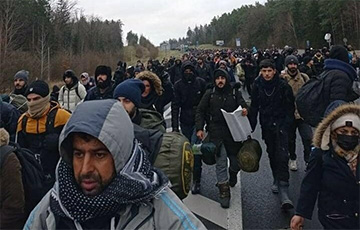 How trafficking from Kurdistan to the EU is organised.
A migrant trafficker from Kurdistan gave an exclusive interview to Belsat. He promises a new route for migrants to Europe.
- Describe the route from Kurdistan via Belarus to Europe.
- First, the customers come with a copy of their passport with one photo. I make a tourist invitation for them from Belarus. After ten to fifteen days, the papers arrive. Then the process begins to book the flight, get insurance, coronavirus test. We coordinate connections between Belarusian airlines and Flydubai. Then, they fly to Dubai. And from Dubai to Belarus. A lawyer meets them to check that everything is correct and takes them to the hotel. The hotel was booked for eight days. It took about three to five days. Then we planned the journey. We paid for it. We coordinated with security forces from Belarus, people were taken in cars to the border with Poland or Lithuania, and then to Germany. It was a long way to Germany. It took 20-25 days to get to Germany.
- Did you cooperate with any Belarusian organizations, people in Belarus, the Belarusian authorities, perhaps?
- The law-enforcement agencies? Yes, we cooperated. We bought a route. The law enforcers at the checkpoints. And we also had a person who spoke your language. He was a translator for migrants. He helped organise the route.
- Police or military?
- People at the checkpoints.
- Could you share more details about these Belarusians? Were they at the border checkpoints or where?
- We were buying their services at checkpoints. You know, there are checkpoints along the way. For example, they told us to get out of the car. Then a person who knew the language left the car and paid to be let through. And they let us get back in the car and drive.
- Did you send any passport data to Belarus, to whom?
- Passports went through the embassy; there's also a consulate inside the airport. When a person checked them and accepted, we asked for a tourist visa. The time of stay at the invitation was fifteen days. It could be extended. They understood those people were going to Germany. And they accepted everyone's documents.
- How much money did you charge per person?
- For a person from Erbil... A full package for one person to Germany costs twelve thousand dollars.
- Twelve thousand per person? This money was divided between you and the others. What share was yours and what for the others?
- My money was about three thousand dollars.
- What about the rest?
- They were for a man from Belarus, a lawyer and a big fish. The greatest part of the work was my burden. I handled the whole process to keep things moving. There was a lot of work. The lawyer took two or two and a half thousand. We also paid money for the journey.
- How much did you pay people in Belarus?
- They took money for the trip, not for every person in the car. A thousand and a half for each trip. They didn't charge for a client, just for a group. They took the money, a thousand and a half, and that was it.
- How did you transfer money for people in Belarus?
- Most of our clients have someone in Germany. There are insurance offices where you can leave money for payment on demand. We have a person in Belarus who is Kurdish. This is a big boss. If someone was completing a journey, reaching Germany, this person from Belarus would pay the Belarusian guides $1,500. He did not participate in our work, he only paid in arrears. When the car reached Germany, the work was completed.
- Through the internet?
- No, no. Our big boss is in Belarus. He has a place to live there, but he is a Kurd. Yes, he lives in Belarus. He has a house, a car, an ordinary life.
- How much did you pay this man?
- How much? Each trip cost twelve thousand. It means nine thousand without my money. Don't forget the enforcers you have to pay. He took three and a half or four thousand.
- Do you know this man's name?
- Yeah, but they'll kill me if I say it.
- Can't you say?
- They will kill me.
- We have heard many stories of guides deceiving, people not reaching their destination, but losing their money. What did you do in such a case?
- It is true. Someone was bad, once they sent a thousand and nine hundred to the airport. It wasn't the guide's fault, but the agencies'. Someone in Dubai, someone in Turkey, someone in Jordan, someone in Lebanon. They were helping to issue fake visas. There was no opportunity to check whether they were valid or not, nor was there any way to do so at the airport in Dubai. When one reached Minsk; the airport found out the visa was fake. Then they wondered how one made it to the airport. At this point, they started trading with guides who offered their services in Minsk. They offered to pick us up from the airport, but we had to pay. Yes, there are good and bad guides. Not all fingers are the same.
- How many people did you send to Belarus?
- A lot. I'm not sure how many.
- But it's hundreds, a thousand?
- No, I haven't reached a thousand. The Belarus route is a new one. It's only eight months old. It appeared in April.
- Are you a senior participant or just a junior one in this huge system?
- I live off it. It makes seventy per cent of my income. Believe me, it's hard work here, not in Belarus.
- A little more about the big boss in Belarus. Do you think he is working upon permission of the Belarusian authorities, or is he working together with the Belarusian law enforcers?
- Let me tell you something, brother. Today, if you have bought the law enforcers, you have bought the whole country.
- Is it a deal between the law enforcers, the special services and the authorities?
- Yes, of course, one hundred per cent.
- Did they arrange it?
- In my opinion, these people are now on the border between Poland and Belarus. And if they wanted to solve this crisis, it would be solved in a minute. In a minute, they would have brought everyone back. It is a political game. Ones are pressuring the others. And everyone is beating ordinary people over the head. Everyone is protecting their interests. There's a problem between the two governments. If they had wanted, they could have fixed the situation.
- How it all started. Who did tell you that it was possible to go through Belarus?
- Our man, he is in Belarus now, was Turkey. He came to Erbil when the route through Turkey was closed; the authorities put his name on the red list. He told me that he would open a business in Belarus. If he gets there, he will arrange business, send me clients.
- Has this route closed?
- Now? Yes, the route through Belarus is closed.
- What's the next one?
- We're waiting for March. The route will never stop. The path between Russia and Ukraine will open in March.
- Will it open?
- Yes, some offices here issue visas to Russia, fly to the airport in Moscow and then go to Ukraine, people travel normally.