Andrei Sharenda: Only Our Complete Victory Will Free Both Palina and All Political Prisoners
2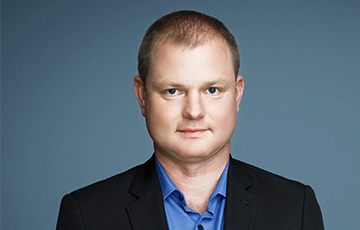 The case against the activist of the European Belarus is a planned provocation.
The spouse of an activist of the civil campaign European Belarus Palina Sharenda-Panasiuk Andrei Sharenda told Charter97.org about this. Let us remind you that today it became known that the mother of two children was forcibly sent for a psychiatric examination:
- Palina is charged under Article 364 - violence or threat of violence to a police officer. As the lawyer said, such words appear in the case that allegedly during the search she tried to rip off the medical mask from the police officer. She tried! With this, as stated in the case, she inflicted psychological trauma on an employee of the Ministry of Internal Affairs.
The case against Palina and our family is a planned provocation. During the search, the doors were simply knocked out. This is the reality of Belarus and you don't need to do anything to go to jail. You can be arrested simply because of your views.
From the very beginning, when Palina was imprisoned in a pre-trial detention center in Brest, they began to psychologically pressure her. First of all - the complete absence of letters from her. In almost two months, as she is in jail, I received one short letter, where she asked for a list of things to be handed over. As far as I know from the lawyer, she wrote me at least 10 letters, and none of them reached me. About the same was from me: only a few letters. I probably wrote a dozen letters. She was driven into a vacuum and crushed by the lack of information from me, the family.
Immediately she was preceded to the cell, where she sat with two HIV-infected girls who were accused of distributing drugs, that is, this is also psychological pressure.
Palina immediately said that she did not recognize the investigative actions that were going against her. She pleads not guilty and completely refused any investigative actions or confessions. Therefore, they began to psychologically press.
- How would you comment on the new attempts by the authorities to put pressure on your spouse?
- I just left the IVS yesterday and immediately went to send a care package. Through a lawyer, I learned that a transfer to the Minsk center Navinki for psychological examination had already taken place. Power operates on the same principles as the fascists and communists acted in their time. It is psychological pressure.
As far as is known, they wanted to carry out this procedure in Brest, but they refused there. And for this, they already use a proven option, a trusted institution. I know that some activists have already been examined there. Firstly, it is a long stage, psychological stress, which can last for days.
The institution itself, as far as I know, is a very dark, old building that puts pressure on the mind. There is a threat that there will be some actions directed against her.
- You said that you almost never received letters from Palina, but you received some messages through a lawyer. How is she holding on?
- A lawyer regularly visits her, this is the only way to get in touch with her. According to the lawyer, Palina is doing well, says hello to everyone; she feels support and receives up to 10 letters a day. She tries to answer every one, but the censors seem to let a few pass.
Palina is holding on, the only thing she asks for is: "Tell them to take the slippers and finish off this cockroach." Palina does not stop and goes on. Only our complete victory will free both Palina and thousands of political prisoners who are behind bars, under house arrest, in "chemistry." Only complete victory will liberate these people.