Media: Lukashenka And Putin Quarreled In Sochi
55
25.02.2021, 11:28

106,694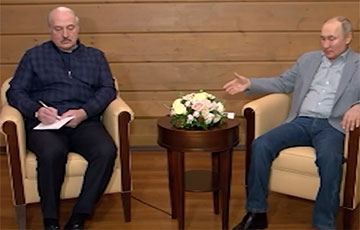 The situation for the usurper is completely hopeless.
The meeting of Lukashenka and Putin in Sochi ended not only to no avail, but probably caused another cooling of relations between the two autocrats, avia.pro writes.
According to the data of Telegraf, the Belarusian dictator tried to put pressure on Putin, which caused almost a quarrel between the two rulers.
"Judging by the impressive silence of the insiders in Minsk and Moscow, the conversation between Putin and Lukashenka in Sochi was very, very tough. It is not excluded that they even argued there yesterday. At least two (!) telephone conversations of Medvedev and Putin with Lukashenka following the yesterday's talks unambiguously hint at this," - such information appeared in the Russian Telegram communities.
Nevertheless, the situation for Lukashenka is absolutely hopeless - having quarreled with Russia, he will find himself completely isolated, especially considering the fact that Europe has already set conditions for Minsk regarding the resumption of the dialogue between the two sides.
"Several sources in the two delegations said that the negotiations in Sochi were not easy and Moscow was extremely harsh in expressing its dissatisfaction with Minsk's tactics. "The main thing is that the problem has not been solved; the issues have been postponed. And although Minsk claims that everything is under control, this is far from being the case. The problems are getting worse; the economic crisis is evident; the conflict with society has not been resolved; the strategy of repression increases the risks given the activization of the West," - avia.pro writes.